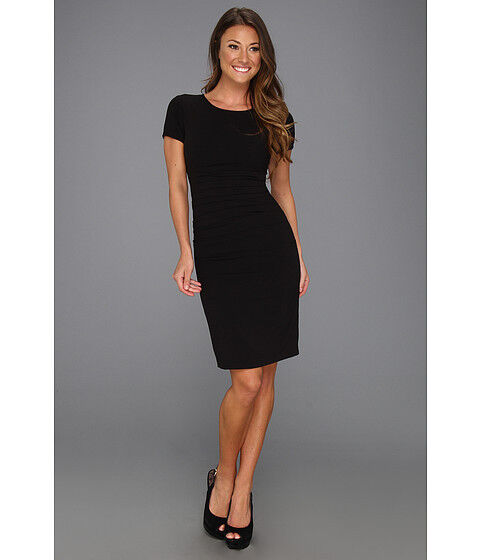 Professional women and women with active social lives need a wardrobe that provides them with all the clothing, accessories, and makeup options that they require for any event. Usually, such wardrobe includes at least one formal cocktail dress. Many women have more than one cocktail dress so that they can enjoy some variety and do not have to appear at every party in the same dress. Although formal cocktail dresses can be expensive, websites such as eBay typically supply a variety of budget-friendly options and deals, including new and used dresses. To find the ideal formal cocktail dress for their closet, women should consider the length, material, shape, and style of the dress.
Cocktail Dress Length
Cocktail dresses are usually short, ranging from knee-length to mid-thigh length. However, some formal cocktail dresses are longer so that they are warm enough for the cooler months or outdoor events. Some women prefer the graceful silhouette of a long cocktail dress, no matter what the season. Tea-length formal cocktail dresses come to about five centimetres above the ankle. Others reach the ankle or skim the floor. Buyers who want extra coverage should choose a tea-length or floor-length cocktail dress. In contrast, women who want to show off their legs or who prefer a shorter skirt for dancing may need a dress that is knee-length or shorter.
Cocktail Dress Material
In general, designers use expensive or luxurious materials to create formal cocktail dresses. Some popular choices are silk, chiffon, lace, and satin.
Chiffon
Chiffon is light and breezy and flows beautifully around the wearer's body. Since this material is so thin and gauzy, designers often use it in multiple layers or layer another, more opaque, material underneath it. Some dresses may include sheer chiffon sleeves or chiffon draping. The material creates lovely styles without adding unwanted weight to the cocktail dress.
Lace
Like chiffon, lace is not typically opaque. It usually appears as a layer over another material. Designers may use it to create part of the bodice, the sleeves, or the lower portion of the skirt, allowing for a slightly seductive sheer effect. For the body of the dress from the bustline to the mid-thigh, a thicker material provides the necessary opacity. With its intricate design and countless colours, lace has long been representative of elegance and luxury.
Silk and Satin
Silk and satin are slightly heavier materials and may be a little more difficult to care for, since they tend to show wear or stains easily. However, these materials impart a rich sheen to any cocktail dress, giving the wearer the formal elegance she desires. Designers often combine chiffon or lace with silk or satin, creating beautifully balanced and fashionable formal cocktail dresses.
Cocktail Dress Shape
As with any clothing purchase, women should be aware of their body's shape as they select a formal cocktail dress. For heavier women, diagonal draping across the torso creates a more slender silhouette. Women with large hips should draw attention upward to their bust, shoulders, and face with extra detailing across the bust, a strapless style, or a one-shoulder style. Thin women with straight figures can choose a cocktail dress that enhances the bust and cinches in the waist, giving the illusion of a curvier figure. Athletic women should avoid sleeves, and should instead take advantage of sleeveless and strapless cocktail dress styles to show off their toned arms.
Cocktail Dress Style
As women consider the way body shape relates to style, they also need to think about their lifestyle and the events to which they plan to wear the cocktail dress. Some women may have a lifestyle that requires them to attend many formal occasions. However, these women may not always have an ample budget to support their active social life. In such cases, they should consider buying formal cocktail dresses that are simple in design and that flatter their figure perfectly. Once they have a few simple, chic cocktail dresses, they can change their look using accessories.
Bangles, earrings, scarves, shawls, handbags, shoes, bracelets, and belts are cheaper individually than another cocktail dress. Owners can combine each one of these pieces in different ways to create dozens of looks with just two or dresses. Whether women invest in several unique, glamorous cocktail dresses or select just a few and spend more on extra accessories, they should ensure that they stock their closet with all the options they need to maintain their lifestyle.
Cocktail Dress Colour and Pattern
If women need versatility in their wardrobe, a solid-coloured formal cocktail dress in black, ivory, or a jewel tone often works well. Most women like to have at least one formal black dress that can carry them through nearly any occasion. In addition, women should take care to select a formal cocktail dress that complements their skin tone rather than clashing with it. Warmer skin tones look good with warm colours such as red, peach, coral, brown, orange, and yellow. Cool skin tones favour blue, purple, green, lavender, and grey. If buyers are unsure whether a particular colour looks good on them, they should ask a fashion-savvy friend or speak to an image consultant for professional advice.
How to Buy a Formal Cocktail Dress on eBay
eBay and eBay Stores are great shopping destinations when you need a new or pre-owned formal cocktail dress. Type ' formal cocktail dress' into the eBay's search bar on any page of the website, and start exploring the available listings within mere seconds. Read the details and information in each product listing carefully, taking note of the item's condition and any free shipping offers. A Top-rated seal on a listing means that the seller has a wealth of positive feedback from eBay shoppers and is likely to supply you with courteous service and a satisfactory product.