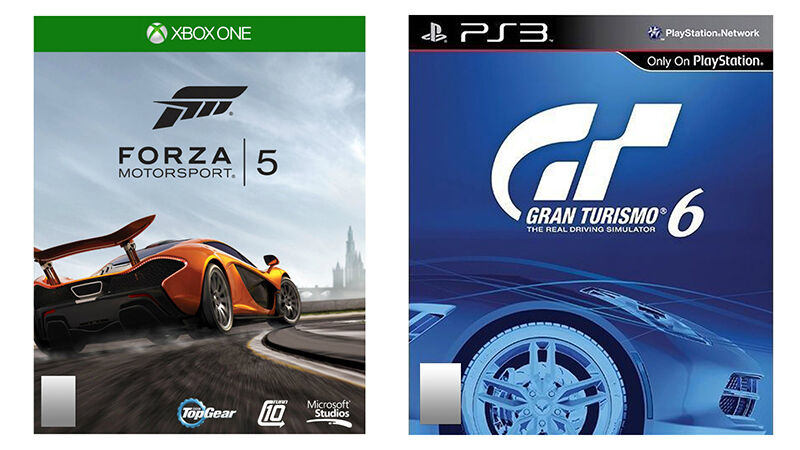 Few people have the opportunity in real life to tackle the curves and speed through the world's most famous racing circuits, like Mount Panorama in New South Wales and Nurburgring in Germany. However, driving simulator games, like Xbox's "Forza" and PlayStation's "Gran Turismo", put people behind the wheel of race cars so they can do just that. Debating which game is better remains a popular topic amongst fans who must sort through the features and options that determine whether "Forza" or "Gran Turismo" is the better driving simulator.
Cars
Players who value having plenty of options need to opt for "Gran Turismo", while those who prefer sharper-looking cars choose "Forza". "Gran Turismo" has a larger car inventory than "Forza", and it divides the cars into premium and standard categories. Many of the game's cars are niche Japanese models popular with racing fans. Yet, despite its overwhelming inventory, "Gran Turismo" misses a signature race car, the Porsche, which appears in the "Forza 3" lineup.
Customisation
Both games let players customise their cars for optimal performance. These options include adjusting wheel alignment, ride height, gear ratio, and front-to-rear torque distribution. While the overwhelming inventory of "Gran Turismo" gives players more vehicle options, "Forza" offers visual customisation that includes racing regalia for the ultimate fan experience.
Driving Experience
Both "Forza" and "Gran Turismo" give players the ability to adjust the steering sensitivity levels to meet their own preferences, and the controller systems for each game shake and move in response to the action on the screen. They also feature realistic damage, so each crash into a sidewall or bump against another car leaves missing paint and dents in the cars. However, "Forza" integrates damage more realistically than that seen in "Gran Turismo", since the "GT" cars often do not have damage consistent with the accident.
Game Play
The two games approach game play in very different manners. "Forza" operates much like an arcade game in which the players have immediate access to many of the features. On the other hand, "Gran Turismo" gives players the opportunity to play for extended periods of time during which they earn money in races and add cars to their garages. This is easy to do in "Gran Turismo" since each edition of the game offers considerably more layouts than "Forza". Although both games feature popular drifting events, "Gran Turismo" has NASCAR and kart racing options as well as specialty races designed for specific cars.
Artificial Intelligence
A key feature in any racing game is the quality of the game's artificial intelligence. Ideally, the game gives players worthy opponents who challenge them along the course. According to reviewers at Gamer Network, the computer-operated opponents in "Forza" mimic real life driving habits, like slamming on brakes and sideswiping cars in order to get an edge. Conversely, the opponents in "Gran Turismo" appear more robotic and predictable, resulting in less exciting matches.
Circuits
Peaking at 100 available tracks on "Gran Turismo 6", the franchise consistently offers more tracks for players than "Forza". Among these circuits are Austria's Red Bull Ring with long straight stretches that let players reach top speeds, the U.K.'s super exclusive Goodwood Hillclimb, and the Gran Turismo Arena for kart racing. "Forza" also features simulations of real world circuits as well as original maps, like Camino Viejo de Monteserrat set on the outskirts of Barcelona and Maple Valley Raceway that takes drivers through rolling hills of New England.
Interactive experience
"Gran Turismo 5" includes a course-maker option that turns racers into designers. Players select one of seven themes and adjust the weather conditions, track surface, curve severity, and corner sharpness to create a customised track. They then have the ability to test the track and adjust to create the ultimate racing experience. "Forza" lacks these options.
Graphics
The graphics on "Forza" give it a clear advantage over "Gran Turismo". "Forza" cars have greater detail than their "Gran Turismo" counterparts, especially the standard cars that often have blurred lines and decals. Reviewers at Kokatu compared the same tracks in both games, revealing sharper colours and more realistic signs and guard rails in "Forza".
How to buy a driving simulator on eBay
On eBay, you can find the full range of "Forza" and "Gran Turismo" games and accessories, like steering wheels and Bluetooth headsets. As you look through the available listings, take the time to read the descriptions carefully so you know the condition of each item and communicate directly with the seller when you have questions about whether the item works with your system. At the same time, pay close attention to the game's title and format so you find compatible versions for your game console.