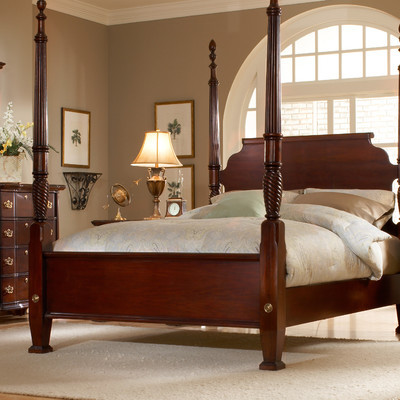 Four-poster beds give any bedroom a dramatic look. A four-poster bed simply screams elegance and opulence. However, a large, traditional four-poster bed can easily overwhelm a small room. Shoppers must consider how much floor space is available for a bed. For average sized rooms, buyers can find simple, contemporary four-posters. Or, for smaller rooms, consumers can opt for half testers, pencil posts, or canopy beds that are just as attractive but not as overwhelming. eBay offers a huge range of four-poster beds in every style, constructed from a variety of wood types. Whether consumers buy new or used, eBay sellers offer competitive pricing.
Types of Four-Poster Beds
Four-poster beds come in many different styles that make a room look elegant, luxurious, and opulent. They come in single, small double, standard double, queen size, king size, super king size, California king size, or custom sizes. Four-poster beds have a romantic appearance that hearkens back to bygone eras. The range of styles means that buyers can find a bed to suit any bedroom. Originally used to ensure privacy, to keep out insects, and to prevent draughts, four-poster beds are now a symbol of elegance. They make for an engaging focal point in the bedroom.
Four-Poster Bed
The traditional four-poster bed consists of four posts connected at the top by a panel known as the "tester" or the "roof". Traditionally, four-poster beds featured ornate designs or a coat of arms carved on the footboard or headboard of the bed. The posts of a four-poster are very thick and heavy, and sometimes feature gemstone decorations. While traditional models are easy to find, shoppers can also find contemporary four-posters with sleek, simple lines to complement modern bedrooms.
Half Tester Beds
A half tester bed has posts that are lower at the foot end of the bed and much higher at the head. The canopy extends over the top half of the bed. They first became popular in the 19th Century, when indoor heating had improved to the point that it was not as important to keep the entire bed enclosed with heavy curtains. Half tester beds typically feature ornate designs, and are a good choice when a four-poster bed would overpower a room or obstruct lighting. They are well-suited to smaller bedrooms, but look just as sumptuous as larger beds if covered in pillows, bolsters, and a beautiful quilt.
Pencil Post Bed
A pencil bed is similar to a traditional four-poster bed, but the surrounding posts are thin and rounded. Original pencil post beds had a frame across the top of the bed from which a canopy hung to provide privacy and warmth. Modern pencil post beds do not have a frame on the top of the bed. The long, thin posts are very ornate, and give the room a dramatic focal point.
Canopy Bed
A canopy bed has four long posts on each corner, and decorative fabric hangs across the top and around the sides of the bed. Canopy beds come in either contemporary or traditional in design. Traditional styles have heavy cloth surrounding the bed with ruffles and pleats. Traditional canopy bed frames are hand carved with elaborate designs, and feature ornate headboards and footboards. Contemporary canopy beds usually have frames made of wood or metal, and are of much simpler designs. They often have a lighter material, such as silk or cotton, surrounding the bed, and do not have a footboard.
Wood Choices for Four-Poster Beds
Four-poster beds are usually made of wood, although metal four-poster beds are also available. When choosing a four-poster bed, buyers should consider which wood best suits the room's style current decor.
Oak
Oak has always been the traditional choice for a four-poster bed. It is a very strong, and does not warp or shrink over time. Although dark oak is the most common wood for bed frames, oak also comes in light colours. It is comparatively easy to carve and stain, and is robust and durable.
Rosewood
Rosewood is one of the most expensive woods used for a four-poster bed. It is deep red in colour. Commonly used as a veneer, it is rarer and more expensive than other woods. Rosewood, like oak, is easy to carve and lasts a long time. Rosewood does not warp or shrink, and the black graining in the wood makes it a popular choice.
Birch
Birch is very light in colour, but stains easily to resemble darker woods, such as cherry or walnut. Birch is difficult to carve, and therefore it is used in four-poster beds of simple designs found in contemporary styles. Birch does not shrink or swell; it is very strong, and has very small wood pores.
Mahogany
One of the heaviest woods available, mahogany is a reddish brown colour. Its grain pattern is distinctive, and the wood is easy to carve. Mahogany does not warp, and lasts a long time. The obvious and unique grain pattern in mahogany creates a beautiful, attractive bed.
How to Buy a Four-Poster Bed on eBay
eBay offers an array of high quality four-poster beds in new, used, or refurbished condition. You can also find great deals on other bedroom furniture and all the accessories you need to dress and compliment your new bed, including quilts, bolster pillows, and drapery. You may even find free delivery from many reputable sellers, including some with a top-rated status.
To make sure you receive the best service and the highest quality bed, be sure to check the feedback score of the seller before you confirm your purchase. Buy a new four-poster bed and any accessories you need from eBay at great prices, and create a dramatic, bold focal point in your bedroom and a sumptuous, comfortable sleeping environment.