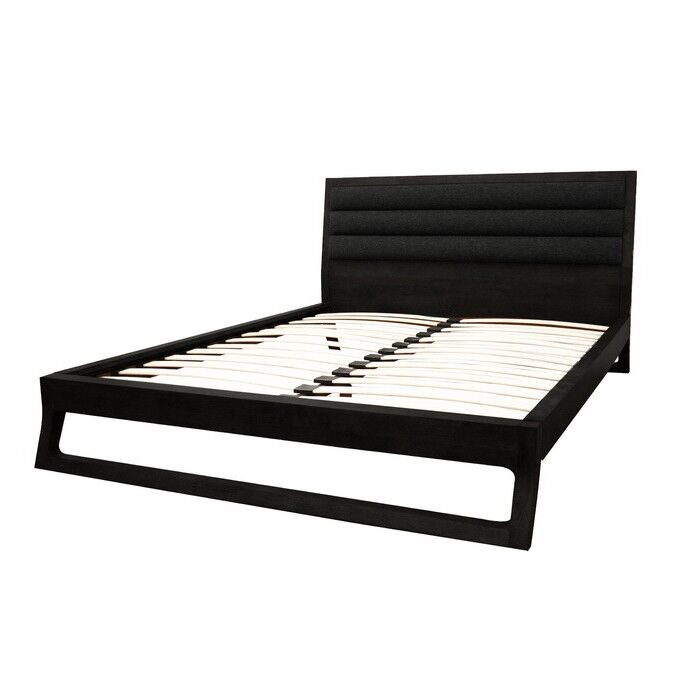 Quality sleep is essential to anyone's health and therefore choosing the bed can be one of the most important decisions when designing the bedroom. A bed starts with the bed frame, or the bedstead, a framework onto which the mattress and bedding are placed. The
bed frame
needs to be sturdy in order to support the weight of the mattress, linens, and sleepers. Besides the functional part, the bed frame may also make the bed an outstanding piece of furniture. In any case, this is rather noticeable when stepping into the bedroom as it is often the central piece in the room.
A four-poster bed frame is in this light quite a stylish piece of furniture. It has four tall posts, one in each corner of the bed. If there is ample of space in the bedroom and the posts do not obstruct the movement in any way, then this kind of bed can be a welcome addition. Four-poster bed frames are available in furniture stores or ordered conveniently on online websites, such as
eBay
where there are always
deals
.
Four-Poster Bed Frame Materials
The material of a
bed frame
not only defines its style, but it also influences its longevity. Some materials are more reliable and last for a longer time, while others tend to wear quite quickly. By and large, the materials can be divided into wood and metal. Sometimes, leather is also used for the headboard and footboard and mainly serves a decorative purpose.
Metal Four-Poster Bed Frames
Metals are hard and sturdy and thus constitute reliable bed frames that last for years. Brass and iron as well as steel are common metals used in bed frames. Often, a metal bed frame consists of a combination of these metals. Metals can be moulded in endless ways, so intricate designs are often created from them. If the metal bed comes from a quality manufacturer, it probably does not rust nor squeak.
Wood Four-Poster Bed Frames
Wooden four-poster bed frames are generally made of either hardwood or softwood. Hardwood is derived from broadleaved trees that abandon their leaves when winter comes, although some are not deciduous. Such trees include oak, walnut, mahogany, maple, birch, ash, and beech. Hardwood has gained its name due to its higher density when compared to softwood. Therefore, it is also more durable as well as more expensive. Non-resinous hardwood is generally dark when it comes to colour and this should be accounted for when considering the bedroom style.
Softwood is a product of evergreen coniferous trees, such as spruce, pine, fir, cedar, and larch. Softwood grows faster than hardwood and is thus more readily available. It is less dense and wears quicker, being thus also cheaper than hardwood. Bed frames made of softwood are light in colour and they could also be resinous because coniferous trees exude resin, sticky organic substance.
Particle board is yet another wooden material that could be used for making a bed frame. Also known as chipboard, this material contains rigid sheets of compressed resin and wood chips that are veneered or coated. Such plates are flimsy because they are made of leftovers, but these bed frames generally do not last long.
Four-Poster Bed Frame Parts
Like all other
bed frames
, the four-poster bed frame consists of bedrails, headboard, and footboard. In addition, it has some parts that not all bed frames include, namely, the four posts that may also support a canopy.
Bedrails
Bedrails constitute the structure on which the base and the mattress are later put. Larger beds also require a centre support rail in order to support the extra weight. In this case, there may also be some extra feet extending to the floor. Already double beds that are standard in most
bedrooms
need the centre support rail, while it is a must for king and queen size.
Headboard and Footboard
Headboard
, or bed head, is an upright panel located at the head of the bed. Besides being a design element, it can be used to support a pillow and thus it makes reading in bed very comfortable. A footboard is another upright panel located at the foot of the bed. It keeps the duvet from slipping out of the bed and also features as a design element. Both headboard and footboard could be directly attached to the bed frame or added later. Therefore, they allow to customise the look of the bed and contribute to the style of the bedroom.
Posts and Canopy
The four posts at each corner make the four-poster bed frame stand out. They add height to the bed and could be either design elements or support a
canopy
, a decorative cloth covering that forms a ceiling over the bed. The canopy could be either flat or curved. From the canopy, curtains may also hang and these curtains could cover the sides of the bed as well. Historically, this was used by noblemen who wanted some privacy because their servants often slept in the same room with them. Early canopy designs were intricate and featured many ruffles, while today these designs are simpler. The curtains become useful in the summer by blocking out light and keeping insects away.
Drawers
Drawers are optional extras that some four-poster beds may have. They may also be bought separately. If there is some space under the bed, then drawers are a good way to fill that space and cut the number of wardrobes and other cupboards in the bedroom. The less furniture in the bedroom, the easier it is to sleep because any disturbances can make relaxing harder. Storage spaces under the bed are perfect for putting odd bedclothes out of sight, but still in a place where they are easy to reach.
Four-Poster Bed Frame Sizes
Bed frames
as well as
mattresses
and bed linens have standard sizes and this makes matching them easy. When buying a four-poster bed frame, or any other bed frame, it is good to know the typical measurements used for different sizes. The size should match the bedroom size. It is recommended to have at least 60 cm of space at each side of the bed, except for the head that is typically supported against a wall. If the bed comes with a headboard, it takes up slightly more space. The bedroom should not feel cramped. Although it may be tempting to pick a large bed, the queen size should be fine for two people, while even a double may do. The following chart outlines the bed sizes.
| | |
| --- | --- |
| Bed Frame Size Name | Bed Frame Dimensions (cm) |
| Single | 91 by 190 |
| Double | 140 by 190 |
| Queen | 150 by 200 |
| King | 180 by 200 |
Note that in the dimensions the first number is for the width and the second for the length of the bed. The double bed is considered to be the standard size of a bed. Therefore, it is also called the full-size.
Buying Four-Poster Bed Frame on eBay
Typing "four-poster bed frame" into the search box that you can find at the top of any eBay page is the easiest way to start looking for one. If you want to be more specific, you can already add the desired bed frame material or the size you require. Once you receive the initial search results, you can click on related searches in order to gain some more inspiration. This is really helpful if you did not find what you were looking for in the first place. In order to narrow down the results, you could also sort them by price or geography.
Check the detailed item listing to find out the exact measurements of the bed frame and whether it fits your needs or not. If the details do not give you enough information, feel free to
contact the seller
and ask. You could also inquire about refunds, payment methods, delivery, and postage. Moreover, as the bed frame is quite a hefty thing to send by post, you may ask about a local pick-up possibility and collect it yourself.
Conclusion
As sleep is essential to anyone's health, the bed should be chosen with ultimate care. The bed frame supports the base of the bed and in turn the mattress, so it has to be firm and sturdy in order to be able to carry the weight of sleepers. Moreover, bed frames may also be stylish and contribute to the overall look of the bedroom. Four-poster bed frame is one of such bed frames that stand out because it has four tall posts in each of its corners. These posts could be used to hang curtains or support a canopy. Increased privacy and keeping the insects away are some advantages derived from this design. Besides the posts, all four-poster bed frames include side rails and an optional centre support rail if the bed is larger. Headboard and footboard as well as drawers may also be present.
Metal and hardwood are sturdy and reliable materials often used for four-poster bed frames. In addition to dense and heavy hardwood, some beds are also made of lighter softwood. Particle board frames should be avoided because they are prone to breaking.
The size of the bed frame depends on the size of the room. There should be enough movement space around the bed. Single, double, queen, and king are the common bed sizes that are also used for bedding.