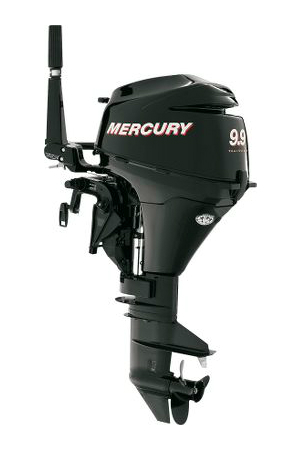 A four-stroke outboard motor is an internal combustion engine designed to be used on the exterior of the boat rather than under it. This means that the engine is attached to the rear of the boat without modifying or altering the hull of the boat. While the majority of outboard motors are in fact two-stroke, four-stroke motors are becoming increasingly popular as they are more environmentally friendly due to their lower emissions.
Buying a four-stroke outboard motor for a boat requires that the motor be powerful enough to propel the boat and that the boat be suited for a four-stroke motor. Other considerations include the fuel type for the motor, the brand, and the ignition system. There are many different types of motors that can be each suitable for a different boat. The following information can be used to find and choose an appropriate outboard motor.
Four-Stroke Outboard Motor Features
The first step to purchasing a four-stroke outboard motor is to decide on the fuel type, brand, size, weight, and model of motor needed for the boat. Setting a budget, choosing between a new and used motor, and then choosing between purchasing online or from a boat motor retailer are also choices. Anyone who is purchasing an outboard motor for a boat that previously held an inboard motor also has special considerations because different horsepower and motor weights might be necessary for each.
Four-Stroke Outboard Motor Fuel Type
There are three basic types of four-stroke outboard motors: electric, which are the least powerful; petrol; and diesel, which are very powerful but very heavy and expensive. For many boat owners, the choice is quite simply a petrol motor as it is affordable, easy to purchase, and readily available. For anyone upgrading to a four-stroke motor from a two-stroke motor, the four-stroke uses an oil filter and runs similarly to the motor of an automobile rather than having the oil mixed with the petrol like a two-stroke motor. This allows the motor to run more smoothly, have better fuel efficiency, and a better emissions rate.
Four-Stroke Outboard Motor Brand
The motor brand does not matter to some people although it does sometimes affect the quality of the motor. There are many outboard motor manufacturers, and choosing one of them is usually a matter of personal taste and budget. Yamaha, Honda, Tohatsu, Marinar, Briggs & Stratton, and more are all very popular manufacturers, but there are more than thirty major brand manufacturers of outboard motors so there may be plenty to choose from. Some buyers do prefer specific brands and it is usually a good idea to know the brand's reputation before making a purchase.
Four-Stroke Outboard Motor Size
The size of the outboard motor matters for several reasons. Most boats require a motor of a basic size and power in order to function properly, so this is an important consideration. Anyone who is purchasing a replacement four-stroke motor should simply purchase as near to the same size, weight, and horsepower specifications as the previous motor installed on the boat. Anyone upgrading should check the weight of their boat to decide on the horsepower and use those factors to calculate how much power the new motor should have. There are three basic size classes that boat motors are sold under, although the physical size and weight can greatly vary depending on the specific motor.
| | | |
| --- | --- | --- |
| Large Motor | Standard Motor | Portable Motor |
| Typically for hulls up to 17 feet, or 5.18 meters, but also for hulls up to 37 feet, depending on the size | Standard personal boats | Typically for very small boats |
| 15 to more than 500 horsepower | 5 to 200 horsepower | Up to 15 horsepower |
| Very fast | Slow to fast | Very slow |
| Very heavy | Heavy | Very light |
Portable motors are not usually for anything but very small boats that can also be moved by hand. Usually, they are used as a backup in case of emergency for smaller boats, or as an addition to a rowboat or other small marine vessel. Large motors are of course for very large boats and not for smaller fishing and sporting boats. Standard outboard motors are usually the most readily available and can be used with small fishing boats, speed boats, and similar.
Four-Stroke Outboard Motor Shaft Length
Four-stroke outboard motors are typically sold with three basic shaft lengths, which should be chosen and purchased according to the size of the boat. These shafts are set at standardised lengths to fit the transom on a boat, which is standardised at 15, 20, or 25 inches. In centimetres, these lengths are 28, 50, and 63 centimetres. For those not familiar with boating terminology, the transom is the physical surface of the stern or rear of the boat. The length can be found by measuring from the top of the stern to the bottom, and then used to find an appropriate shaft length for the outboard motor.
If the shaft is too long, it creates drag and lowers the fuel economy of the boat; if the shaft is too short, the engine might not ventilate, might overheat, and might damage both the engine and the boat. For this reason, it is very important to choose the proper length of shaft based on the transom of the boat the engine is for.
Buying a Used Four-Stroke Motor
Anyone who wants to save money on a four-stroke motor can of course choose to buy a second-hand motor. Used motors can vary in condition, quality, and value depending on the brand and amount of use but are typically a great deal cheaper than new motors. However, it is important to pay attention to the age of the motor as they do have a limited lifespan. While there is no set rule, usually any motor that is over 10 years old is not really worth buying. Buyers who are on a budget can also choose to look on eBay in hopes of finding a good deal on a boat motor instead of buying a used one.
Buying a Four-Stroke Outboard Motor on eBay
Sellers sometimes list four-stroke outboard motors on eBay, and even search for deals. eBay sellers can list in new or used condition, and can list any of the brands available, so the number of motors, their brand, condition, and quality do vary depending on the time. Anyone can go on eBay and check to see what is there by simply searching for 'four stroke outboard motor' from any page of the website.
It is very important to read the description before purchasing a boat motor on eBay. Boat motors can be quite heavy and some sellers might list their motors as pick-up only, which can be a hassle if you live very far away. Another consideration is that some sellers might actually be selling a for-parts motor that does not work. Reading the description and asking the seller any questions about the motor before committing to a purchase can make sure everything goes smoothly.
Conclusion
Purchasing a four-stroke outboard motor requires that the buyer know the size, weight, and horsepower requirements for their boat. Knowing the length of the transom is also important for choosing a motor with a proper shaft length. There are electric, diesel, and petrol outboard motors available. Buyers can choose to purchase any of these motor types as long as the horsepower meets their needs.
Things to consider before buying an outboard motor for a boat include setting a budget, choosing between a new and used motor, and choosing a brand. These are personal considerations although the practicality, durability, and value of the motor should be kept in mind when making the purchase. Finally, it is possible to purchase four-stroke outboard motors from a store or an online shop like eBay, but either way it is most likely necessary to pick up the motor rather than having it delivered.
Four-Stroke Outboard Motor|Boat|Shaft|Boat Motor|Hull