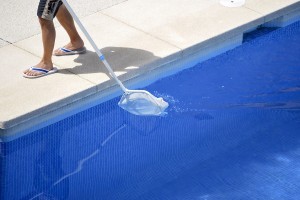 You can find tips and advice on how to keep your pool clean all over the internet. But most of the time this advice varies from source to source and can make things quite confusing. This is why we decided to put some of our top tips together that will help you. Ideally you should follow these steps every day. But we all live busy lives so try to aim for at least 2 times a week.
1. Clean the baskets
You may have to take the Skimmer and Pump baskets out to empty them, tip them upside down and tap out the leaves and debris. Not cleaning the baskets regularly will lead to overfilling – baskets will crack.



2. Manual Vacuuming
The pool will usually require manual vacuuming to remove leaves that are in the pool.
Note that if the pool has an automatic cleaner this may not have to be performed as often. Before vacuuming it is best to brush down all the steps and crevices so it is easy to vacuum up. If you vacuum on a normal filter setting the debris and leaves that are picked up will be caught by the skimmer basket and the filter media. Depending on the dirt in the pool the filter may clog up as a result of vacuuming. The filter will therefore probably need to be cleaned after vacuuming.

3. Cleaning the filter
All types of filters need to be cleaned but note that cartridge filters will usually need more frequent cleaning than sand filters. To clean a filter, ensure the pool pump is off, before you turn the valve to "Backwash" and run the filter on backwash for 2 minutes. If the filter is very dirty or the pressure is not coming down by normal cleaning then use a chemical filter cleaner.

4. Cleaning the Chlorinators
Most salt chlorinators need to have the cell cleaned on a regular basis.
Remove the salt cell from the housing by unscrewing it and leave the cell to soak for around 15 minutes, take it out and hose it off. You may use a plastic or wood stick/tool to assist in removing the calcium build up.