This guide aims to persuade the reader to pause for a moment and reflect.
Just for a moment.
We live in a society that seems to be growing busier and more complicated by the day. Often days seem to fly by in a blur; after all, how many times have you asked yourself, "where did that week go?".
That week is now just a memory.
Memories are a time where upon we momentarily reflect our youth, past love, children and defining moments that remain framed in our hearts.
Take a minute to reflect upon your most joyous memory: was it how big the house was? Or how large your television was?
No, it was more than likely being outdoors, a family holiday adventure or a precious moment with someone you love.
Photographs, keepsakes and heirlooms can prompt these memories, bringing a slight smile when held and admired.
Placing these valuable moments into quality, antique frames gives a respect and meaning like no other.
DISPLAYING & STORING PHOTOGRAPHS
It is wise to hold a
copy
of your original photograph displayed in a frame, place the original in acid free tissue paper and place in a dark, dry area away from light. Alternatively, you can mount
your photograph within an acid free album.
I also back up my images to disc and keep the discs with the album and loose photographs.
BUYING OLD FRAMES WISELY
Firstly, buy from a reputable dealer. There are thousands of frames being sold as 'antique style' or even as genuine antiques when they are clearly reproductions.
For example, the frame below was being sold as a genuine antique: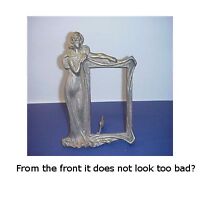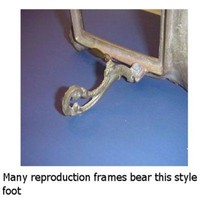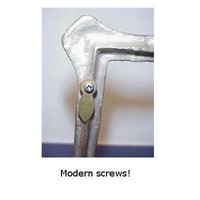 The above frame and it's counterparts are mass produced and sold off as Antiques.
Tactics used by these sellers are:
To place an old image into the framing and claiming it to be original to the piece
To not show good, clear shots of the back
Shows only blurry images in general of the frame
Hints at the frame being 'antique' but claims ' buyer to make up their own mind'
Now for a true Art Nouveau frame: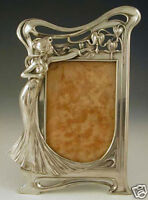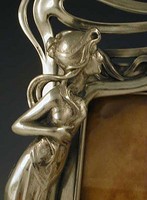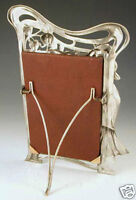 Beautiful, flowing design Quality detail Good, clear image of back
SEARCH METHODS
Tired of looking for genuine antique frames when all that comes up is modern reproductions with headers like 'antique style'?
Rid search results of these fake frames by typing the exact words into the ebay search bar:
Antique Frame -(style)
The above will give results for Antique frames minus the items listed as antique style. You can add more to the seach by simply having a comma between words.
Antique Frame -(style, new)
Frame your precious moments with beauty and vision, after all we remember moments, not days.