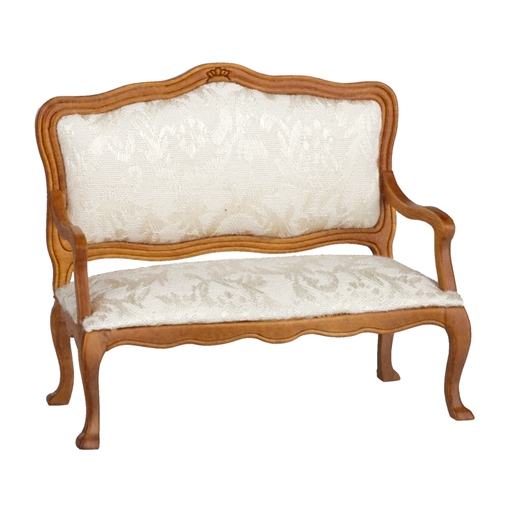 When homeowners think of French furniture, they often think about the fine pieces constructed by the best Parisian furniture manufacturers. Yet, French provincial furniture constructed in towns such as Lyon, Blois, and Orleans has become a popular way for homeowners to enhance home decor and receive a return on their investments. As one of the most popular pieces of French provincial furniture, French provincial sofas represent the defining piece of furniture in a living room. The growing popularity of the sofas has created a bustling online market that includes e-commerce giant, eBay. Before going on eBay, French provincial sofa shoppers should first learn a few buying tips, and then confirm that they have a valid reason for purchasing the piece of French provincial furniture.
French Provincial Sofa Buying Tips
Buying a French provincial sofa requires shoppers to follow many of the same tips that they follow when they purchase other types of vintage furniture. They must verify vintage authenticity from the era between the late 1700s and early part of the 1800s . Moreover, shoppers need to ensure the French provincial sofa for sale possesses cabriole legs.
Cabriole Legs
Cabriole legs represent the defining feature of French provincial sofas. The four vertical supports should form two curves, with the upper arc convex and the lower arc concave. Cabriole leg upper curves always bow outward, while the lower curves bow inward. More important, the axes of the two curves must be in the same plane. Some contemporary adaptations of the cabriole leg include small balls that attach to the bottom of the legs for extra support. Some manufacturers utilise padded foots to provide more balance.
Research
Buying vintage furniture, such as a French provincial sofa, requires buyers to perform extensive research before they make a buying decision. Visit several furniture shops and ask questions of the sales professionals. Building relationships with furniture shop sales professionals may also lead to tips on when a seller may offer a high-quality French provincial sofa on eBay. Buyers should always learn the origins of a French provincial sofa, as well as any enhancements that may dilute the authenticity of the vintage furniture.
Condition
Vintage furniture, such as French provincial sofas, falls into the used condition category. However, that does not mean buyers must settle for worn or damaged sofas. Many eBay sellers offer French provincial sofas that they mostly used as decorative pieces, not functional furniture. Avoid upholstered French provincial sofas, as upholstered furniture indicates inferior quality. Refurbishing upholstered French provincial sofas is rarely cost effective.
Defects
Although defects diminish the value of French provincial sofas, that does not mean buyers should completely disregard the slightly defective furniture. Pieces of furniture that date back to the early 1800s most likely contain some scratches or small dents. Instead of moving on to inspect another sofa, why not use the defects as a bargaining tool? Carefully examine the French provincial sofa, note the defects, and calculate an acceptable price that factors in the defects.
Size
French provincial sofas typically sit at least two people. Larger size sofas accommodate three or four people. Since most buyers do not purchase French provincial sofas to store in the basement, ensure the sofa provides the correct measurement scale to the living room. Homeowners should measure the sofa under consideration and compare the size to the living room area where they plan to locate the sofa.
Test Run
Buyers should sit in the French provincial sofa to confirm the sturdiness of the legs and the solid support of the frame. They also should check closely for concealed tears and other signs of deterioration. The primary shopping goal is to find a French provincial sofa in excellent condition to maximise value. Furniture that is over 200 years old can lose some of its original functional integrity. For eBay shoppers, this means buying local to have the opportunity to take the French provincial sofa out for a "test run".
Reasons to Buy a French Provincial Sofa
Both buyers and sellers should learn the primary reasons why people shop for French provincial sofas. Buyers can confirm that they have the right motive in buying the vintage furniture and sellers can accurately target prospective buyers. The following chart summarises the three main reasons why people buy French provincial sofas.
Reason

Description

Given as gift to grown children

Rarely used

Typically not upholstered

Decorative

Antique European furniture popular for enhancing living room decor

Comes in a variety of styles to match most home interiors

Used to promote homes during house tours

Profit

Most French provincial sofas increase in value over time

Refurbish sofas in poor condition and sell for a profit

Considered an appreciable asset
The most significant factor that contributes to French provincial sofa value pertains to the original manufacturer. Most French vintage sofa makers have produced provincial sofas since they first made their debut during the late 1700s. Buyers should consider buying French provincial sofas produced by one of the original manufacturers to ensure authenticity, and hence, appreciable value.
How to Buy a French Provincial Sofa on eBay
eBay hosts numerous vintage sofa sellers that include sellers of French provincial sofas. Each seller presents an enlarged photograph of the French provincial sofa for sale, which allows you to examine the sofa for defects, such as small dents and scratches. Consider sellers who live in Australia, preferably within a reasonable commute of your home. Close proximity to a potential seller provides you with the opportunity to sit on the sofa to verify its condition. Moreover, Australian French provincial sofa sellers most likely offer the fastest delivery times. Review the customer feedback that eBay compiles on each seller's product page. Consider sellers who have garnered positive feedback over the past year for selling antique furniture.