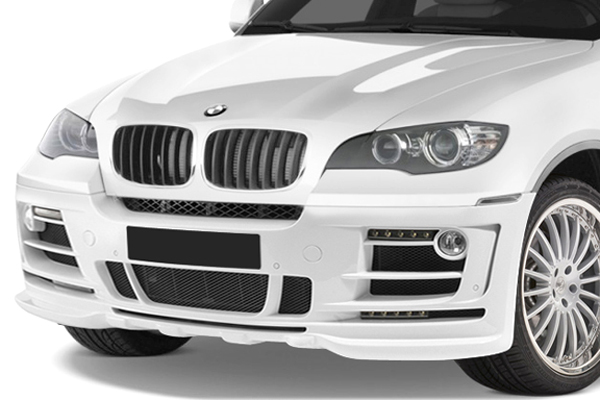 A bumper is a part of a car's body. There is a bumper located on the front and back of the vehicle. Bumpers are needed to absorb energy from the impact of a collision. Car bumpers protect the car from damage during a low-speed collision. However, in the case of a high-speed collision, the integrity of the bumper may be compromised. Still, the front bumper functions to protect other parts of the car, such as the bonnet, grill, and lights. If a car is involved in a collision, then the bumper may need to be replaced. Shoppers should consider all of their options carefully, as there are a number of bumpers to choose from. While standard bumpers are always an option, shoppers may wish to consider custom bumpers that have enhanced performance or appearance. Additionally, considering different materials for the bumper can help a shopper find the bumper that suits his or her needs best. Shoppers can find a large selection of new and used bumpers on eBay.
Types of Car Bumpers
If the front bumper of a vehicle needs to be replaced due to damage or for another reason, a car owner has a few options. A shopper can take the time to evaluate the ratings and performance of different bumpers to decide which one he or she prefers. Additionally, people who are more concerned about the appearance of their cars should consider custom bumpers. Shoppers should take the time to consider both standard and custom bumpers before making their purchasing decisions.
Standard Bumpers
Standard bumpers are those that were originally installed on a vehicle in the factory. These original manufacturer parts are designed to fit on a certain vehicle and match the body perfectly. This means that they are easy to install and no modifications are required to ensure that the bumper fits on the front of the car or matches the colour of the car. Standard bumpers are typically made from a fibreglass frame that is covered in plastic and then painted. The designs vary from car to car, and as the years go by, the designs continue to change. Standard bumpers usually lack frills, as the primary function of a standard bumper is to absorb impact forces.
Custom Bumpers
Custom bumpers are made to fit cars based on manufacturer specifications, but the appearance of the bumper has been improved in some way or the bumper has been altered to enhance a car's performance. The shape and design of a custom front bumper helps to improve a car's aerodynamics, allowing it to move faster and burn less fuel. These custom bumpers may also allow the car owner to install custom lights, fog lights, or other performance parts. These types of custom bumpers are often seen on cars that have been enhanced for racing.
Some people may choose custom bumpers that offer more protection over the standard bumper. These bumpers may be sturdier and are often made with a metal frame. A shopper can also find heavy duty bumpers with brush guards or a winch for towing. These are more commonly found on off-road vehicles and large trucks.
Bumper Materials
Bumpers are made from different materials. Each material offers different advantages, and the type of vehicle as well as the purpose of the material can help a shopper determine which material would best suit his needs. The table below lists the most common bumper materials, as well as their benefits.
| | |
| --- | --- |
| Material | Description |
| Aluminium | Lightweight, helps to improve the car's efficiency, made from recyclable materials |
| Fibreglass | Lightweight, inexpensive, durable, easy to repair, can be painted |
| Carbon Fibre | Lightweight, durable, often found in high-end and performance car bumpers |
| Plastic | Most common material used due to low cost, difficult to repair, usually crack on impact |
| Steel | Very strong and durable, more common on older cars, more often seen on large trucks |
Shoppers who are looking for low-cost front bumpers should consider plastic, as it is the least expensive material. However, in this case, shoppers get what they pay for. While plastic bumpers are attractive and affordable, they do not stand up well to impacts. Since these bumpers do crack, they are not usually repaired and so must be replaced altogether. Fibreglass is a good option because it is lightweight, affordable, and durable.
Shopping for a Used Front Bumper
Depending on the type of bumper as well as the material it is made from, a front bumper can be an expensive investment. This is especially true for new custom bumpers. Fortunately, shoppers can save money by shopping for used car bumpers. People who customise vehicles often replace their bumpers even if they are not damaged. Additionally, cars that were in rear-end collisions or that have engines that do not work do still have functional front bumpers. By searching scrap yards or getting in touch with private sellers selling cars for parts, a shopper can find lower prices on used bumpers. Additionally, shoppers can find great deals on front bumpers on eBay.
Condition
When shopping for a used front bumper, it is important for a shopper to carefully evaluate the condition of the bumper. If not already done so, a shopper should remove the bumper from the previous vehicle so that all sides can be inspected. While the exterior of the bumper may look fine, the interior should be checked out, too. Some bumpers stand up well to impact on the outside but may be cracked or may have sustained other damage on the inside. Additionally, the front bumper should not be missing any paint or have severe scratches or dents. The cost of the used bumper should be consistent with its condition. Bumpers in poor condition should be priced much lower than those that are in excellent condition.
Car Bumper Accessories
Car bumpers are designed to protect cars from collisions, but that does not mean that they do not get damaged themselves. Because the bumper is located in the front of the vehicle, not only is the bumper susceptible to front-end collision but other types of damage too. Fortunately, many accessories exist that can help to protect the bumper from this type of damage.
Bumper covers can be placed over the bumper and the front end of the vehicle to protect the bumper from damage from rocks and other debris. Bumper grills provide additional protection for the bumper, as well as the engine bay. Many people purchase custom grills to improve the appearance of their vehicles, too.
How to Buy a Front Bumper on eBay
You can find front bumpers of all types and materials on eBay. The easiest way to find the bumper that works for your car is to use the search box found on the main page. If you are not entirely sure what you are looking for, use a general search term like "car bumper" to find all listings for car bumpers. You are then able to refine your search results by the make, model, and year of your car. Be sure to look at the pictures and read the description of each bumper to ensure that you are purchasing the right item.
Because bumpers are large, bulky, and heavy, postage costs can be high. Look for sellers who offer free postage to help save money. Some sellers offer the option for local pick-up, which means that rather than paying to have the bumper delivered, you can pick up the bumper in person.
Conclusion
The front bumper of a car is designed to protect the car from damage from a front-end collision. In order to effectively absorb the energy from an impact, the bumper needs to be intact and show no signs of damage. If the front bumper does sustain damage, then a car owner should consider finding a replacement part. Shopping for a bumper is not always easy, and shoppers have a number of different options to choose from. Once a shopper has determined whether he wants a standard bumper or a custom bumper, a car owner should also consider the bumper material, as well as look for prices on bumpers that that fit within his budget. Shopping for and comparing front bumpers is simple when shoppers browse the large selection available on eBay.
front bumper|grill|bumper cover|custom bumper|fibreglass bumper