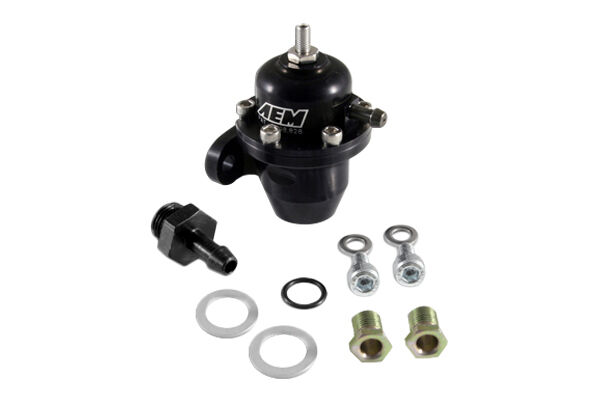 With most of today's cars using fuel injection systems, many consumers may find themselves in need of essential components in fuel injection systems, including a fuel pressure regulator. This part serves a central function in the fuel consumption of a vehicle and can come in a variety of types, each of which delivers its own advantages. Learning the differences between various fuel pressure regulators is essential before consumers begin the purchasing process. It is important that consumers learn how to find and purchase the right components for their vehicles.
Consumers can also benefit from exploring retail options beyond traditional automotive parts vendors. This includes considering sources like the online retailer eBay, which aggregates vendors to create a large catalogue of fuel pressure regulators.
Fuel Regulator Basics
To begin, consumers may want to ensure they understand the basics of fuel pressure regulators, including their component parts, their function in fuel injection systems, and their function in engines in general.
Parts in a Fuel Pressure Regulator
A fuel pressure regulator serves an important function in an engine, but it is a relatively basic device itself. The following table lists the essential parts that make up a standard fuel pressure regulator.
Component Part in FPR

Description

Body

Constructed of steel or aluminium

Houses the internal components

Inlets and Outlets

Controls the flow of fuel into and out of the FPR

Diaphragm (Plunger)

Seals off atmosphere inside the FPR body

Isolates and controls pressure

Spring

Determines base fuel pressure

Acted upon by diaphragm pressure

Spring opens the valve

Valve

Controlled by spring assembly

Passes fuel through the FPR

Pressure Adjustment

Screw that allows for manual increase in base fuel pressure

Manifold Reference Port

Used on bypass FPRs

Maintains even pressure across fuel injectors
Most of these component parts are found in all fuel pressure regulators. Understanding these terms and their functions can help the consumer make a more informed decision when shopping for a fuel pressure regulator.
How Fuel Injection Works
A vehicle's fuel injection system determines how much fuel to send through to an engine at any given time during its operation. Most modern engines use an electronic metering system to do this, and this is known as an electronic fuel injection (EFI) system.
EFI System Basics
The starting point of an EFI system is the mass airflow sensor, which determines the density of the air the engine takes in for combustion. This amount is sent to the engine control unit. Information from the throttle position sensor also sends information to the engine control unit based on the engine load, which is the power the driver is demanding at a given moment.
A coolant temperature sensor, a camshaft or crankshaft position sensor, and an oxygen sensor are also important components in an EFI system that send data to the engine control unit. The unit then processes all this information and leverages the fuel pressure regulator to deliver and control a certain amount of fuel to the engine for combustion, ideally creating the perfect fuel/air mix for optimised efficiency.
Fuel Pressure Regulator Functions
The fuel pressure regulator is tasked specifically with maintaining a balanced pressure differential between the fuel injectors and the intake ports. It does this by using the pressure created by the spring assembly inside to determine the static fuel pressure. If the pressure from the manifold side is in an idle state, the spring pressure lessens on the diaphragm and reduces fuel pressure. If there is pressure on the manifold side, fuel pressure increases.
Choosing a Fuel Pressure Regulator
When choosing a fuel pressure regulator, a consumer needs to take several factors into consideration. Understanding these choices can help a consumer zero in quickly on the right type of fuel pressure regulator for his or her needs.
Inlet Fittings
A fuel pressure regulator can come with one or more inlet fittings. A unit with dual inlet regulators is an ideal match for vehicles with more than one fuel rail or for consumers who also want to fit fuel pressure regulators with gauges or sensors.
Adjustable vs. Fixed-Rate
Fuel pressure regulators can also come with pressure adjustment screws that allow vehicle owners to adjust pressure manually. While the majority of fuel pressure regulators are designed to do this automatically, many consumers prefer to have this option to customise and perfect their own setups. In general, only consumers with extensive understanding of engines should attempt pressure adjustments on fuel pressure regulators.
Vacuum Compensation
Some consumers may also want to look for fuel pressure regulators that have vacuum connections included. These components connect to the inlet manifold, and they keep the pressure differential between the manifold and the fuel rail even and consistent.
Internal vs. External Fuel Pressure Regulators
Consumers may also want to consider whether an internal fuel pressure regulator or an external one best suits their needs. An external type offers the advantage of not having to port directly with the fuel line, allowing a consumer to install it anywhere in the engine compartment where there is room. These are typically aftermarket setups that require a bit of know-how when it comes to installation and optimisation.
Internal fuel pressure regulators, on the other hand, are built along the same lines as most OEM setups, meaning that they can be easily installed by many consumers. These versions typically have manifold reference ports and even adjustable pressure in some versions.
OEM vs. Aftermarket
Consumers also need to consider whether or not they just want to get direct replacements for OEM fuel pressure regulators or pursue upgrades by purchasing higher quality aftermarket parts. To find the right OEM fuel pressure regulators, consumers should consult their owners' manuals to determine the exact part numbers needed. These specs can also help with the selection of aftermarket fuel pressure regulators. An owner's manual can tell a consumer about the size and design of the fuel pressure regulator that works with a particular vehicle, and this provides guidance for aftermarket parts, as well. Anyone attempting an installation of a fuel pressure regulator should have the appropriate knowledge of automotive repair and safety and the right automotive tools on hand.
Buying a Fuel Pressure Regulator on eBay
The online retail site eBay offers consumers a good opportunity to explore a number of options when it comes to fuel pressure regulators, including its Deals page. The site is an aggregator, so you can access multiple listings for a variety of fuel pressure regulator types. To begin the purchasing process, you can enter a keyword term into the search bar found on any page on eBay. Using a general term like 'fuel pressure regulator' provides the most diverse range of options, while using a more specific term provides fewer results.
Evaluating Sellers on eBay
When buying parts on eBay, it can always be advantageous to take some time to evaluate the sellers on the site. To do this, just click on a seller's name and visit the seller's page. There you can look through feedback and past listings to evaluate the experience level of the seller.
Conclusion
Buying a fuel pressure regulator does not have to be a complicated process for consumers who are new to the world of engines. By getting to know the basics of a fuel injection system and the types of fuel pressure regulators that are available, any consumer can start the purchasing process informed and ready to make a solid choice. By leveraging the wide catalogue of options on eBay or searching in local automotive stores, consumers can access a range of choices and fully explore their options. Whether a consumer is in the market for an OEM part that fits readily and easily into an engine or an aftermarket upgrade that further enhances engine performance, he or she can find a fuel pressure regulator to fit his or her needs.
fuel pressure regulator|external fuel pressure regulator|internal fuel pressure regulator|adjustable pressure regulator|fuel injection system