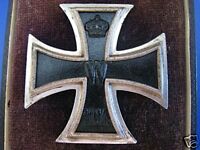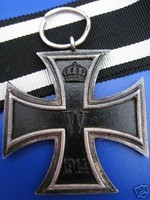 The Iron Cross - Eisernes Kreuz, this world famous bravery military decoration was established by King Frederick William III of Prussia and was for the first time awarded on the 10th of March 1813 for Gallantry in Battle in the war against Napoleon. This first Iron Cross awarded 1813 had the upper central letter's " FW " for Frederick III (Friedrich Wilhelm) with the 1st Class version having a Blank centre black core.
The Iron Cross was originally the symbol of the Teutonic Knights (a heraldic cross patee).
The Ribbon for the 1813, 1870 and 1914-18 Iron Cross 2nd Class was black with two thin white bands. The noncombatant version of this award had the medal, but the black and white colours on the ribbon were reversed.
All original Iron Crosses are made of a 3 Piece construction, meaning 2 Silver frames with an Iron Centre Core wedged between 2 Silver frames, if you look side on, you should see a fine seam where the two frames meet and have been joined together. The centre is a separate Iron Plate, to make sure, just take a simple fridge magnet, and see if it sticks to the Iron Centre Core.
Copies of the Iron Cross are usually made from a one piece construction with very poor detail, and cheap metals used instead of Silver for the two frames.
The 1870 Iron Cross has the central letter's " W " for Wilhelm I, is one of the most faked Iron Crosses in the world, simply because the real 1870 Iron Cross value in today's collector marked is around 650.Euro, $885.USD or $1075.AUD for the 2nd class version, the 1st Class version has a collector's value of between 1700.-2100.EURO, $2312 - 2856. USD or $2800. - 3460.AUD
All Iron Crosses 1870 1st Class I have seen sold on this site, were copies, as were most of the 1870 Iron Crosses 2nd Class, the copies are made in Europe, some are manufactured near perfect, they are so good in fact that they nearly fool even the best of experts, look out for one piece construction, the thing that indicates these fakes every single time, is the poor detail of the CROWN, poor detail of the overall Iron Cross and the fact that the copies are not made with a fine Silver Frame, except for one 1870 1st Class Iron Cross currently being made in Budapest Hungary, which is marked J.Wagner S. 14 Loth.
The Iron Cross 1914-18 has the central letter " W " for Wilhelm II, again all originals are made from 3x piece construction already discussed, most WW1 Iron Crosses have a German authorised manufacturer's stamp on the ribbon suspension ring, using a magnifying glass, you will identify some letters, these letters stamped on the ring identify the German maker of a particular Iron Cross, a list of all the WW1 German makers can be found on the internet to help identify a particular maker, your Iron Cross may also have a .800 or .925 stamp to show the purity of the Silver content used in the frames.
Not all Original WW1 Iron Crosses have a maker's stamp on the suspension ring, about 20% are not stamped.
The WW2 Iron Cross, has a Swastika on the centre core and marked 1939, the most copied is the Knights Cross of the Iron Cross, with fakes from of a very inferior quality, one piece construction, to the near perfect Knights Cross copy made of a 3x piece construction with silver frames made in Budapest Hungary today, copies are also made in Russia and Poland.
Only about 65% of all WW2 Iron Crosses had a LDO Number stamped either on the suspension ring or in the case of the Knights Cross on the frame, these numbers were given to each maker to keep track of quality control, the other 35% had their LDO Number, either on the Outer Brown Carton of the Presentation Box or on the Paper Bag that the Iron Crosses came in.
The WW2 Iron Cross had an Iron Core, except for some German Navy awarded Iron Crosses with the core changed to a Brass Core simply to prevent the salt in the air rusting the core, awarded mainly to U-Boot crews.
In 1957, Germany passed a new law, that all German WW2 Veteran's were no longer permitted to wear their German WW2 awarded decorations, as it was now against German Federal Law to wear any decorations with the Swastika, it was replaced with a single Oak Leaf, all German veteran's could apply to be re awarded their highly priced awarded WW2 decoration in the form of the new de-nazified version.
The contract to make all the new 1957 Version Decorations went to Steinhauer & Lueck of Germany, this company today is the ONLY manufacturer allowed to make all of Germany's offical original decorations.
The only other company that made the 1957 version Knight Cross was Juncker before they closed the factory in 1959.
The original 57 Knights Cross by Steinhauer & Lueck is made from the correct 3 Piece Construction, 2 Solid Silver Frames marked 800 for the high silver content used to make the frames. It has a central black painted non iron core, showing an Oak Leaf and the date 1939. In the early 1950.s Steinhauer still used an Iron Centre Core which was magnetic, this was then changed to a non Iron Core a Silver Core, simply to prevent the rusting of the core.
Note: German 57 decoration does not mean that the decoration was made in the 50's, it simply means that they were and may still be manufactured by the only authorised German Government manufacturer Steinhauer & Lueck, as long as these decoration's comply with the laws of 1957.
All 57 Version Iron Crosses made by Steinhauer & Lueck are classed as 100% Original by the German Federal Government, German Veteran's or the Next of Kin of Veteran's may still apply today to the German Federal Government for an offical copy of their original award certificates, which allows them to privately purchase a 57 Knights Cross replacement from Steinhauer & Lueck directly.
Copies are cheaply made from a 1 piece construction, the only copy made from a 3 piece construction is marked Fa-St.u.L
***************************
Collecting Tips
1. Never purchase any item from a dealer who does not offer a 100% money back guarantee. There may be a limit on your return time. Nevertheless, any dealer not willing to back up his or her merchandise with a refund of purchase price does not have real confidence in what they are selling.
2. Educate yourself with reference material and real world handling of original pieces, record notes of what you see, most important study well known fake decorations. Download images from auction houses and websites. Become what you've always wanted to be, a professional serious collector.
3. So often new collector's ask so-called "experts" question after question without completely absorbing the material or the reason for the answer. Find a dealer or collector that you will respect and trust, take time to contact them, and most importantly find answers from your own research. If at the end, you've gained knowledge so that you can tell an "expert" something they don't already know, then you are taking the first steps towards becoming one yourself - but never admit it or claim to be an expert. Those that do claim to be an expert, typically act like they know more than they actually do. These so called experts are easily detected, as they always act in an unprofessional manner in their business dealings, (you see them on eBay) if a seller needs to make unsubstantiated false claims against any other eBay seller's in their own auction listings, especially if un researched and not factual, it shows a serious character flaw, they lack confidence in their own knowledge and in themselves.
4. Understand the manufacturing process and techniques. What is the difference between die-forging and die-stamping? What do you look for in a casting? Many fakes are cheaply cast from one piece simply because the heavy equipment used to make the originals are just too expensive.
5. Invest in personal knowledge. Some one once said " KNOWLEDGE IS POWER "
* Was this guide helpful to you? If so, please tick "YES" below. Thanks and happy eBaying! *
Kindest regards
Elitemilitaria