Colorado artist Gwen Piña was born in New Jersey, where she says that her early art attempts included "making mud pies and watercolor painting." In 1978, she moved to Colorado. In 1987, she realized that even while painting, she tends to think in three dimensions. She picked up some polymer clay, and it has been her medium of choice ever since. That was the birth of G.P. Originals, whose philosophy is "Hands creating what the mind sees, turning dreams into art."
Piña began by making jewelry, but in 1990 she moved on to more figurative work, especially of Native American women. She particularly enjoyed creating authentic dress, hairstyles, and activities for each figure. The wide variety of colors available in polymer clay, along with their mixability, enabled her to "paint with clay". Her figures ultimately embraced Jewish, African, and Native American cultures.
Later, she began creating polymer clay figures based on old religious icons. "I've always been intrigued by traditional subject matter in a modern art form," explains Piña. "I would characterize my art as contemporary folk art."
The theme of contemporary folk art continues in a new line of G.P. Originals sculptures, begun in 2001. These unique fine art figures combine the fluid lines of polymer clay with a coiled wire base. A small icon often can be seen through the coiled wire base, yielding an inside look at the figure's character and adding new layers of emotional depth.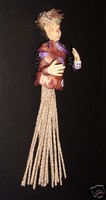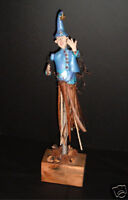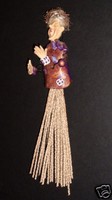 Next, Piña moved on to adding natural elements to her one-of-a-kind polymer clay figures, such as twigs, branches, bark fiber, fronds, and seed pods. Each figure has a name, and each figure has a unique personality. "It's still a contemporary folk art," says the artist. "I want to interpret the expressiveness of people 'doing life.'"
Gwen Piña currently is focusing on creating nativity scenes from her painterly polymer clays. You can see more at http://www.gporiginals.com. Her work can be found in a variety of fine galleries nationwide as well as on eBay.
Thank you for reading our guide. If you found it helpful, please vote by clicking "Yes" below.