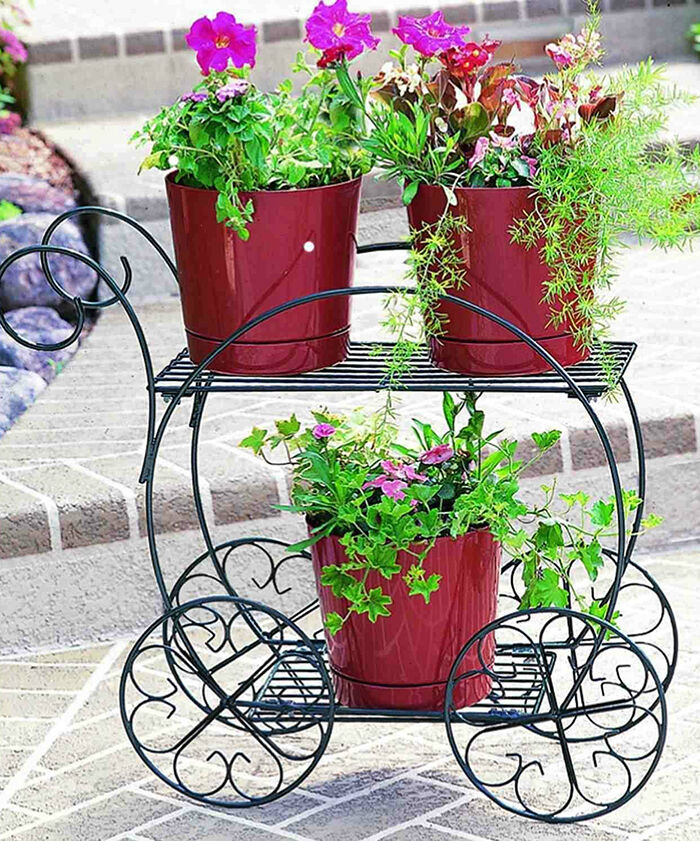 A garden stand, or plant stand, is a decorative construction for displaying attractive arrangements of potted plants and flowers. Homeowners commonly position such stands on patios and decking areas outside, but they also add colour and interest in a conservatory or hallway. There are many styles and sizes available, with a range of finishes suitable for all kinds of garden furnishings and home decor, so consumers can easily find one to suit their tastes and budget.
Garden stand styles
There are garden stands of all shapes, sizes, and styles available. The type of stand, as well as the look and feel, often dictates the most suitable location.
Basic stand
A basic garden stand looks like a miniature table or pedestal. They come in ornate metal, sturdy and rugged wood, or dainty ceramic. They look attractive from any angle, so they are versatile enough for a range of locations.
Tiered stand
Tiered stands have two or more steps, allowing a user to position plants at different heights for interesting arrangements. They are usually made from wood or metal, with slatted or wire mesh steps. Due to the nature of the design, they look best from the front and are typically positioned against a wall or fence.
Hanging basket stand
Hanging basket stands are usually made from metal or plastic. They comprise a wide base with a central column that supports one or more hanging baskets. These stands are not suitable for heavy potted plants, but when used with trailing plants they form an attractive focal point for a patio or add a splash of colour along a pathway.
Corner stand
Corner stands are a type of tall garden shelf with two or more surfaces for pots. The back of the stand forms a 90-degree angle, allowing it to fit flush with the walls in the corner of a room or decking area. This is a useful option where space is limited. Since they often sport ornate, metal designs, they look attractive in small cottage gardens.
Garden stand sizes
Before purchasing a garden stand, homeowners should consider the space available. There is no point purchasing a plant stand that does not fit or that is so big it looks out of place. For this reason, consumers should always measure an area carefully, keeping in mind the need for additional space to move around the stand without bumping it or knocking it over.
Buyers should also consider how the stand's size affects its weight. A very large stand made from metal or wood may be too heavy to move around when reorganising the layout of a garden, or it may damage the flooring in a conservatory.
Garden stand materials
Garden stands typically come in wood, metal, or plastic. The choice of material affects the overall aesthetic and its suitability for indoor and outdoor use. Each material has its own distinct advantages.
Wood
Wood is one of the most common choices because it is relatively inexpensive. A wood stand may come in a range of finishes, including natural, painted, and stained. Rustic wood stands are suitable for cottage gardens, but slick, varnished designs are available for modern homes.
For use outside, a hardwood such as teak is ideal. Regular maintenance is essential to keep the stand in the best possible condition and to prevent it from rotting or splitting due to exposure to the elements.
Metal
Metal plant stands tend to be thinner and more ornate than wooden alternatives. They are often light, which makes them easy to move around, and their intricate details make them an attractive addition to nearly any room or garden area. Metal requires less maintenance than wood, and its durability and resistance to the sun and rain makes it a convenient choice for people who prefer relaxing in the garden rather than keeping up with the chores.
Plastic
Plastic is a lightweight and hardwearing choice. It may crack or fade after long sun exposure, but it requires no maintenance other than an occasional wipe-down to clean it. Many companies produce detailed, moulded designs from plastic that resemble more expensive materials.
How to buy garden stands on eBay
Whether you want a tiered garden stand for your patio or a plant stand for the porch, the large inventory on eBay has what you need to add colour and warmth to your home. To search for garden supplies, simply enter a keyword phrase in the search field located on any eBay page, and then organise the results by price and other factors for easier browsing. Always read lot descriptions carefully to ensure the product meets your requirements, paying particular attention to size and delivery options.