When purchasing body jewellery it is important to know which size jewellery will fit your piercing. Body jewellery is measured in both metric and imperial systems. The metric system uses millimetres and the imperial system uses gauges and inches. Most body jewellery sellers will give both types of measurements.
Understanding gauge sizes

The gauge is the thickness of the piercing. Usually the bar or wire that goes through the hole, but it can also be the diameter of a flesh tunnel, expander or plug. Standard sizes run from 20gauge(.81mm) to 00gauge(9.26mm). Larger sizes are then measured in fractions of inches or mm.
Most ebay sellers will round to the nearest mm when listing sizes.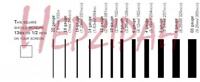 (this is the biggest i could get the gauge chart-
for a bigger one go to my 'About Me'page and scroll to the bottom.
Standard piercing sizes

Tongue- 14gauge
Belly- 14gauge
Eyebrow- 16gauge or 14gauge
Labret/Monroe- 16 or 14gauge
Tragus- 16 or 14 gauge
Nipple - 16gauge or 14gauge
Regular ear- 20 gauge
Nose - 20 or 18gauge
Lip- 16gauge
Common Body jewellery
BALL CLOSURE RINGS (BCR)
BCR can be used in most piercings. They are often used when you initially get pierced as they are easy to rotate and clean.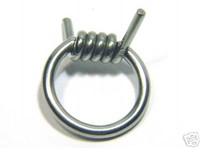 BARBELLS (Bars)
Barbells are used for tongue and nipple piercings. Micro barbells, 16 Gauge, are used for eyebrows.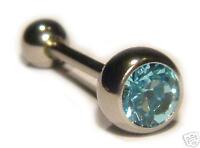 BANANAS (Belly Bars)
Used mostly for navel piercings at 14gauge. Micro bananas, 16 Gauge, are used for eyebrows and can be used for nipples.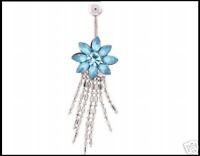 CIRCULAR BARBELL RINGS (CBR)
Another multipurpose ring, circular barbells or horseshoes are used on nipple piercing, tragus, eyebrow or lip.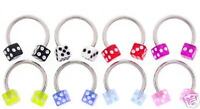 TWISTS/SPIRALS
Used mainly on the belly or eyebrow.
LABRET/MONROE
Labrets can be used for both lower and upper lip piercing and monroes.
TAPERS/PLUGS/FLESH TUNNELS
Used to stretch or maintain a stretched piercing. Usually worn in stretched ears.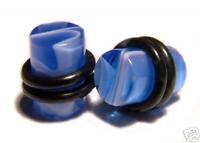 Materials
Most body jewellery is made from 316L Surgical Stainless Steel often combined with acrylic balls or cz gems. This is the safest type of piercing to buy. Very few people have reactions to stainless steel, as opposed to silver, gold or other alloys, and it does not tarnish or rust. It is also very strong.
Other common materials are silver or gold. If you purchase gold body jewellery be very careful to read the description thoroughly. Many sellers sell gold plate (GP), anodised, or elecroplate. These are a good option if you can not afford solid gold. If you want to buy solid gold it will be expensive! Common karats are 9k, 10k, 14k, 18k gold. The higher the karat the higher the gold purity and the higher the price. Hollow gold is another good option. It is slightly more affordable because it is lighter than solid gold being hollow inside. If purchasing silver make sure it is 925 sterling silver.
Organic materials are becoming more and more popular these days. Wood, bone, glass and natural stones are fashioned into BCR's, tapers, plugs, hoops and retainers.
Acrylic material is fashioned into almost every type of piercing and has the benefit of often being flexible. For example flexible tongue bars and belly bars. Acrylic tongue jewellery is also safer for your teeth as it wont chip them if you bite down too hard.
Anodised titanium is used to coat stainless steel body jewellery and has very nice shiny colours. Solid titanium pieces are very expensive and hard to find.
If you found this guide to be helpful please vote for it below!