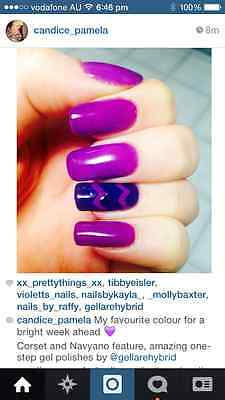 Find Gellare on Instagram
Have you tried light-cured polish? You might know it as "Shellac," "Gelish," "Gelicious," or many other names, but that's what it is: light-cured polish.
Introducing this incredible gel polish product - Gellare Hybrid One Step Gel Polish. Germany imported formula with the advanced nail polish production technology, this product does not require a base or top coat like other comparable brands. All you need is just 2 coats of colour and that's it! 10 minutes application for 14 days flawless salon result.
Its non-wipe top coat from this range also cuts down service time if you require extra shine or artistic decoration. No more cleanser means that you will no longer need to suffer from wiping over nail polish to cuticle skins causing irritations. Great for those 'Gel Allergies' but 'Gel Addicts'.
No top or base needed UV light cured gel polish. Revolutionary 3-in-1 nail gel with smudge and chip free for 14+ days.
See customer reviews on our Instagram. Find us @gellarehybrid #gellarehybrid #gellarenails
Save time on gel manicure, 5-free formula healthy to nails.
Great for home application or salon to cut manicure times.

http://www.ebay.com.au/itm/GELLARE-One-Step-Manicure-Soak-Off-UV-Nail-Gel-Polish-15ml-Needs-Lamp-cure-/281299739500?pt=LH_DefaultDomain_15&var=&hash=item871f2d0151