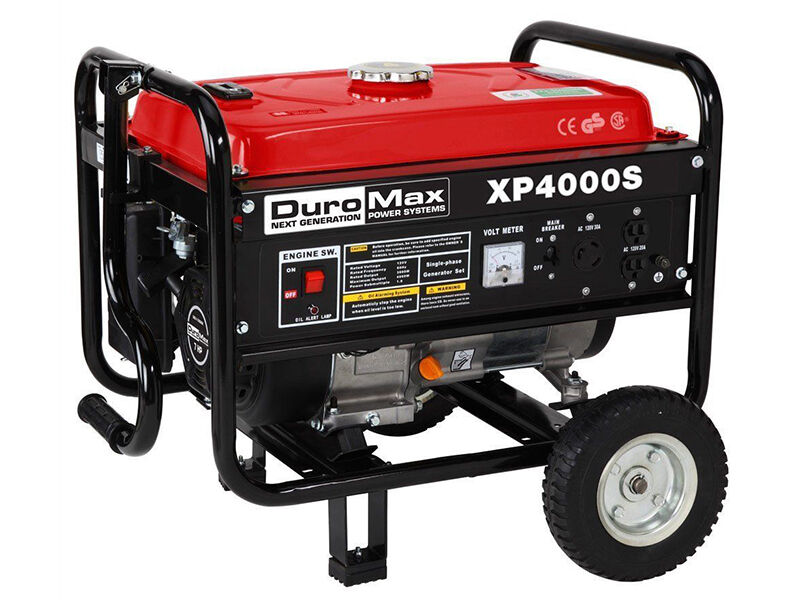 A generator is usually used as a backup power source in the event that electricity is lost during a storm or from some other calamity. In some circumstances, people rely solely on a generator for power if they are living off the grid or to power a work site. There are several options to consider prior to purchasing a generator, including how often the generator will be used and what it will be powering.
Types of Generators
Two types of generators exist: portable and standby. Portable generators usually have a significantly lower price tag than automatic standby generators and are a popular choice for people who seek a generator for occasional use.
Portable Generators
Usually a portable generator is used to help power a recreational vehicle during a camping or holiday outing, to provide a job site with power for tools, or as a standby power source during a power outage. A portable generator has the ability to power only a few items at a time and cannot be relied upon to power large items such as central air conditioning units, kitchen stoves, or other large home appliances.
The portable generator relies on unleaded fuel to function and features a built in fuel tank. A large fuel tank will provide the generator with the longest run time, but makes it bulkier and heavier, so people who seek a generator for a recreational vehicle often opt for a portable generator with a small petrol tank. Usually a portable generator will consume 30 to 84 litres of petrol per day if run continuously.
A large portable generator usually has wheels to move it around with ease. Smaller portable generators are lightweight and easily carried from place to place with handles. All portable generators have 120/240 or 240-volt built in outlets to plug appliances directly into the generator. A built in electric start button lets a person quickly power up the generator when needed.
Despite being portable, the generator should never be placed inside a home or any enclosed location because it produces harmful fumes during operation, which can lead to health problems or death if inhaled.
Standby Generators
The entire electrical system of the home or business is permanently hardwired into a standby generator. A standby generator is far more powerful than a portable generator and is usually used for stores, hospitals or other commercial businesses. A standby generator has the capability of running a building's entire electrical system for an extended time period after a power outage. An automatic standby generator has the ability to sense when power has been disrupted and will automatically start operation as soon as it detects that the power has stopped functioning. Most models will also automatically turn off when power is restored.
The standby generator depends on liquid propane, diesel or natural gas for operation. In most areas, permits are required for installation by a professional. A 950-litre tank of propane or natural gas can usually power a standby generator for eight to 15 days.
Prices of automatic standby generators tend to vary widely and depend on the generator's power capacity. The greater the generator's power capacity, the higher its price tag.

Optional Generator Features to Consider
Standby and portable generators all have certain features that should be considered prior to purchase.
Liquid Cooling
Large generators are often available with liquid cooling. Liquid cooling helps high-wattage generators stay cool and run quietly.
Automatic Voltage Regulation
A generator with automatic voltage regulation prevents power fluctuations and surges that can damage sensitive electronics like computers and televisions.
Automatic Safety Shutdown
Generators with an automatic safety shutdown feature will turn off if the machine detects any type of unsafe operation. Low oil pressure, high temperature, or low oil coolant will trigger the unit's automatic safety shutdown to protect the generator from possible harm.
Built-in Circuit Breakers
If too much current runs through the generator, the generator's built in circuit breakers will trip to keep both the generator and the equipment it is operating from malfunctioning.
Transfer Switch
Some portable generators are available with a transfer switch, which allows the generator to be connected directly to the home's stationary electrical system. The transfer switch helps eliminate the need for extension cords.
Conclusion
Prior to purchasing a generator from an online store, the buyer should determine how frequently he will use the generator and what its main purpose will be. Once the buyer decides what he will be powering, he can determine the size of generator required.