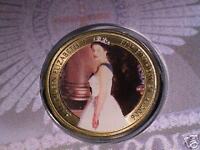 This is the only coin that comes in the Genuine Official PNC issued for the 2006 Queens 80th Birthday.
Buyers Beware NON OFFICIAL Packs have been put together and contain the 12 sided 50c coin.
The genuine PNC is a joint Perth mint and Australia Post issue.
Look for a Bar code and issue price $14.95 above the Bar code.
The made up NON OFFICIAL PNC's have the 12 sided 50c coin taken out of their original Purple card package that they were issued in for $5.95 by The Royal Australia Mint. The coin was simply removed from it original package and made to fit in a FDC cover with simular artwork to the Genuine PNC that will only contain the above pictured coin.
If you are not SURE ask the seller before you bid,
WHO ISSUED THE PNC?
Australian OFFICIAL 2006 PNC's were not issued from or to the UK this year ?
Happy Collecting :)