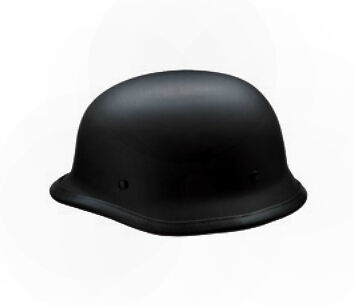 German-style helmets are quite popular with motorcycle riders because these helmets, or half-helmets, give the rider the benefit of lighter and cooler head protection as well as unimpeded hearing. Since German-style helmets have much less in the way of materials, they can be considerably lighter than a full motorcycle helmet. They also allow the rider to feel the wind in their face, keeping them cooler. Since German-style helmets end above the ears, riders are more readily able to listen to surrounding traffic and other audio cues. For these and other reasons, many motorcycle riders prefer half-helmets, and in particular German-style helmets, to full helmets.
When looking for German-style helmets, buyers should keep a few key factors in mind. First, the purpose of the helmet is most important as it informs several decisions. If the helmet is intended for motorcycle riding, it should meet Australian safety standards. Second, the colour, size, and any accessories need to be chosen. Once these decisions are made, motorcycle riders and other buyers can find a range of choices on eBay or in motorcycle accessories stores.
Types of German-Style Helmets
There are two different types of German-style helmets that can be found on the market. One of the most common is German-style motorcycle helmets. Most of these are compliant with safety rules. Another type is the novelty German-style helmet. These helmets look very similar to the motorcycle helmets that are safety compliant. However, they do not offer the same type of protection in a crash. These helmets should only be worn as part of a costume or any other application where safety is not the main purpose the helmets are worn.
Helmet Road Safety
If purchasing a German-style helmet for use with a motorcycle, buyers should consider the government standards for road safety. When looking for helmets online, some buyers may find they prefer helmets from the United States and other countries. Although these helmets may be approved for use in those countries, buyers should keep in mind that helmets used for head protection must be also be compliant with the Australian and New Zealand standards for road safety. The helmets must also be clearly labelled that they are compliant.
Helmets that are safety approved for motorcycles have a cushioning liner intended to protect the head in case of an accident. Conversely, a novelty helmet may or may not be lined, and may be made of plastic, fibreglass, or any number of materials. Most sellers of novelty helmets state clearly that these types of helmets are not intended to protect the head in case of a vehicle crash.
Helmet Colour
Most German-style helmets are found in variations of black. However, if buyers are interested in a unique helmet, it may be worth finding one with a design painted on it. Buyers might enjoy a Captain America helmet or chrome German-style helmets. There are also army green German helmets or helmets with other designs although many helmets with images printed on them are novelty helmets. Therefore, if a safety-compliant helmet is required, buyers should check that is compliant with road safety standards.
Helmet Size
As with most things, German-style helmets come in different sizes. When purchasing a helmet in a brick and mortar shop, buyers can always try on the helmet to see if it fits. On the other hand, when buying a helmet online, it is important to take measurements so that the helmet is the correct size. There is one important measurement that buyers need to take when buying a German-style helmet online. Using a flexible tape measure or piece of string, buyers need to measure around the largest part of the head, just above the ears. The easiest way to do this is take the measurement at the forehead.
Most sellers of helmets have several sizes available, from small through extra large. Buyers should check that their head size corresponds closely to a particular size before purchasing. If buying a German-style helmet for motorcycle riding, it is not advisable to buy a size up or down as an improper fit affects the safety of the head protection.
German-Style Helmet Accessories
Most German-style helmets only come with the helmet, including chin strap. However, buyers can find a few accessories to add to their helmet. First of all, since German-style helmets do not come with face visors, buyers may want to check that an attachable one is possible. A half-helmet visor can help to keep the sun out of the eyes or mitigate the effects of the apparent wind from high speeds on a motorcycle.
Goggles
Another accessory to consider is a pair of goggles. German-style helmets are typically open face, so buyers who intend to use them on motorcycles may be interested in a pair of motorcycle goggles as protection for the eyes. People who buy novelty German-style helmets may also want aviator goggles simply to add to the overall look of the costume. Depending on the choice, riders can find deals on motorcycle goggles and other accessories.
Spikes
In the 19th and 20th centuries, the helmets of German military, fire-fighters, and police had a spike in the crown. This 'pickelhaube' popular in other countries as well, but perhaps not as well known as the German helmets. Though rare, occasionally buyers can find German-style helmets with one or more spikes. Those who are interested in a helmet with a spike but cannot find one in their size may be able to find individual helmet spikes to attach to the helmet after purchase. There are also stick-on spikes available.
Buying German-Style Helmets on eBay
You can start your search for a German-style helmet by typing a search term in the search box on any page on eBay. The more specific search terms you use, the more refined the results will be. Terms such as 'novelty German-style helmets' or 'German-style motorcycle helmets' return very different results. If you are interested in a brand name or particular colour, adding those to the search terms may return exactly what you are looking for. You can also check the eBay Deals page for the best prices of the day on motorbike accessories, which sometimes include helmets.
Once your search query returns a list of helmets you are interested in, you may want to read individual listings with an eye to detail. Notice the measurements of the helmet, the description of the item, and whether it comes with any accessories. Since helmets come in standard sizes but all heads are different, you may want to take note of the seller's return policy. If there are any questions after reading the listing, you can always contact the seller.
Conclusion
One of the key decisions to make when looking for a German-style helmet is whether to buy a novelty helmet, one that meets international safety regulations, or one that meets Australian safety standards. Helmets that pass Australian safety standards should be correctly labelled. It is not advisable to purchase a second-hand helmet for motorcycle or bicycle riding. Since not all damage on a helmet is obvious, it is safer to buy a brand new helmet from a reliable seller. On the other hand, if the helmet is intended for a costume or other informal wear, any helmet, new or second-hand, novelty or one that meets safety standards, can be purchased.
Next, the appearance and colour of the helmet in addition to the appropriate size needs to be decided upon. Finally, buyers may want to consider looking for any accessories such as goggles or helmet spikes. Once these decisions are made, a range of German-style helmets and accessories can be found on eBay.
German-Style Helmet|Motorcycle|Captain America Helmet|Helmet Spike|Half Helmet