eBay Address and Phone Number Details
Follow these few simple rules.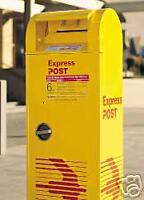 When posting an item to someone, it surprises me the number of times someone has a street address AND a PO BOX address on the same address line within eBay, they chose not to include their telephone number, their whole address is in CAPITAL LETTERS, and they live in multiple cities. And, not surprisingly, the same people might leave bad feedback when their items are delayed in delivery. So please, help your sellers and follow these rules:
From My eBay go down the left hand column to My Account and click on Addresses.
Next to Primary Shipping Address click Change.
Look at your Primary Postal Address and click Edit.
Your address should have:

LINE 1: your first AND last name
LINE 2: your street number and street name
LINE 3: LEAVE BLANK
LINE 4: your suburb or town
LINE 5: the state in which you live
LINE 6: your postcode
LINE 7: the country in which you live
TELEPHONE NUMBER: Although a telephone number is optional, INCLUDE IT. Australia Post ExpressPost and most courier services will delay the delivery of any items which don't have a telephone number as part of the address label.

Write in Mixed Caps like the address appears below. eBay's standard is mixed caps, so if you type your name and address in all lower case or ALL UPPER CASE, the sender will have to retype your whole address from scratch, increasing the likelihood of errors.
Only have ONE address on the address line - do you want your parcels going to a PO Box or a street address? Pick one; only one.
Lastly, decide which town you want to live in. Do you live in Wentworthville or Sydney? Fairy Meadow or Wollongong? Karana Downs or Ipswich? Don't include both! If you're having trouble with this one, go to your closest post office and ask the people behind the counter which suburb or town you live in.
AND It is important that your post code matches the suburb or town you have provided. If this doesn't match, your seller will get a post code mismatch error in postal and courier service web sites.
Your eBay address should eventually look like this:
Pam Sandwich
13 Simple Street
Long Story Queensland 4017
(07) 3522 1479
The 3rd line is only relevant for people who normally have a 4-line postal address such as:
Bob D. Builder
Level 23
MLC Towers
Chatswood NSW 2067
(02) 9416 1555
That's it! And if your sender uses a printed label you'll get your parcels so much faster. Everyone who delivers your parcels will love you!
Good luck, and happy eBaying! If you appreciated the time and effort I put into writing this guide, please take the time and effort to vote.