This Guide is not only meant to offer help and advice for those people wanting to purchase Craft items, but also as a general rule of thumb guide of tips that I have found to be useful in my relatively short time as an eBay Seller.
I originally started my time on eBay as a Buyer, mainly of clothes for my young son, but I quickly became aware that it would be a great place for me to sell some of my vast collection of craft items that I had gathered up over the years. Not only could I make some extra money but I could also make room for all of my son's new clothes.
I started very enthusiastically as I'm sure we all do and was rather lapse in my judgement of time, which I have found is a very important factor in selling successfully.
For starters, don't end things on a weekend. The majority of people go out on the weekends and I have found that nothing really sells at this time of the week.
The other thing I found to be most helpful was ending your auctions after dinner time. Most people are home and sitting down for a rest and most of those people check their emails etc and have time to bid. Ending auction times in the morning or the middle of the day is definately not the peak period and is much slowly for sales.
I'm sure that all of the regular eBay Sellers are more than aware of these small tips but I thought it would be valuable to all those people of there that have just started, like myself, and are not getting as good a response as they'd like.
Well I guess I should start talking about the subject I'm meant to be giving advice on, which is Buying Craft Items.
Q&A (questions & answers) are the best way to make sure you are really getting what you think you'll be getting.
NEW ITEMS
Even if an item is listed as new, it may have been stored incorrectly or damaged somehow. Make sure the description has enough information for you to be able to decide if this item is right for you.
PICTURES
Again, a picture is worth a thousand words and if an item is not as listed, you should be able to see this by the picture displayed.
KITS
I you wish to purchase a Cross Stitch Kit for instance, make sure that all the contents that you need to finish the project are included. There's nothing worse than finding you don't have the last item required to finish your project and having to hunt around to find it. For example, you have stitched your card and are ready to give it to the lucky person only to find that an envelope is not included and you have to search hig and low for one the right size. Again, if your not sure, email the seller and ask.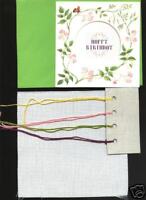 MORE IS BEST
The more information you can get, the better product you are going to buy. It may take a little longer to read through but it will be worth while in the long run. Some listings for Craft Magazines for example, will include some of the projects that are contained in the magazine, if you don't read these you might miss out on something that you have been looking for, for ages that is contained in that magazine, so take a little bit more time and you might find a treasure in the rough.
CHARTS
When purchasing a chart always make sure that you take a look at what Thread choices you have. You may have a heap of DMC stranded cotton sitting around that you could use to complete a chart but you can't do this if it only contains Anchor thread choices. The other thing is to see whether or not the chart is colour or black and white. Some people might find it easier to follow symbols whilst other find that using colours to stitch is the way to go. Buy a chart that is going to suit your stitching style and requirements.
INSTRUCTIONS
It's all well and good buying a beautiful Kit to stitch but it's always a disappointment when the instructions are lacking. Make sure your item has detailed instructions on how to complete your project. Also, it's a long shot but does happen from time to time, if you are buying a chart or kit from overseas, make sure it has the instructions in english.
Well I hope that I have given at least one person a better idea on how to bext purchase your Craft Items and maybe even attempt eBay Selling for themselves one day.
Happy and Crafty Buying.