Wedding, the happiest moment in one's life, always need to be companied by a dreaming wedding dress.
To buy a beautiful wedding dress through ebay became increasingly popular. How to get an ideal dress? There are some ideas I would like to share with you.
How to choose one
The most important factor you may think about when choosing a wedding dress would be style. If you are a quiet person, you could choose these elegant dresses as follows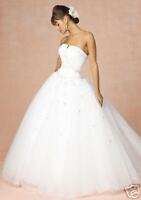 These dresses could show your special elegance which would give people a deep impression. If you are really confident with your figure there are sexy ones,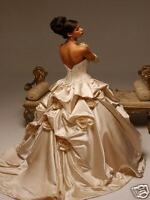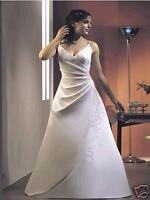 These two ones have a close-fitting design and will show your nice figure to your loved one. If you are a sunny girl, we suggest you look at these dresses
The cute flowers and drape design will give you more fresh feelings and make you the cutest bride!
How to measure yourselves
After you meet your dreaming dress, you could have yourself measured by a professional tailor or by yourselves. Usually, the measurement include your Bust, Waist, High Hip, Low Hip, Shoulder -Shoulder, teat-teat, Shoulder -teat, Shoulder - Waist, Shoulder to Wrist, Waist to hem and Full Length.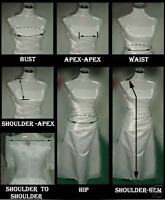 If you can give the seller all of the measurement, I am sure the dress will fit you very much! Shipping Finally there are more I would like to remind: please give your correct delivery address and telephone number to seller to avoid any delay caused by wrong address