These are my absolute all time favourite cards!
Make them your favourite too.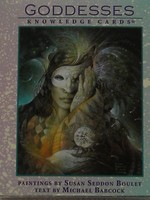 I have been using Susan Seddon Boulet's Goddess Knowledge Cards myself for over 10 years and even though I have seen a lot of tarot and oracle decks, these still remain my favourite.
My husband and I have had a new age business for more than 5 years selling crystals, oracle and tarot cards, books, CDs, DVDs, incense, resins and oils, candles and an extensive range of jewellery and gifts. We love what we do and are very excited to be able to share our products and knowledge with you wherever you are.
The Goddess Knowledge Cards encompass goddesses from: Greek, Roman, Celtic, Native American, Egyptian, Middle Eastern, Asian and Scandinavian mythologies.
There are 48 cards altogether and feature a beautiful painting on the front and a description on the back that explains the goddess and her story.
This is a great deck to use for reading for yourself or for others. It is not described as being an oracle or tarot deck but I find them fantastic to do readings with.
The evocative colours and features of each card clearly convey a sense of what each goddess's message is. When working with this deck for divination take your time. Immerse yourself in the artwork and look at what thoughts, feelings, memories, stories and emotions are brought to your mind. You will find that each and every card has a very different energy and resonance.
A great deck to extend your knowledge and your reading skills.
This deck is also great to use as reference material. Each card explains some information about the featured goddess and her own story.
"In learning about goddesses from different cultures, we can recognise these archetypes within ourselves, allowing us a clearer vision of our strengths and weaknesses and giving us a common thread, a link to the collective unconscious."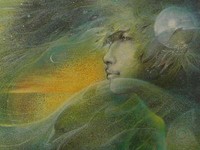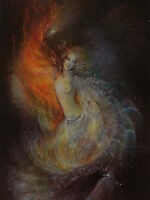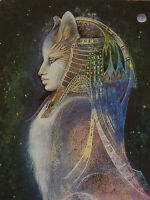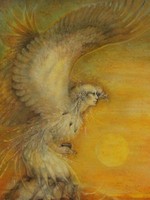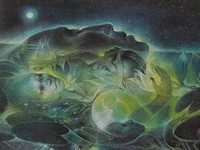 These are photos taken of my own personal deck that is well over 10 years old.