I recently went looking for a popular and desirable golf club for a friend and found a ton of sellers that have no history of selling golf clubs and are now selling them. A lot of these sellers have 1-30 feedbacks and many of them dated a year or more. Although I'd recommend eBay to anyone looking for a good deal on golf clubs, you have to be extrememly careful when purchasing golf clubs here. I'd say good percentage of clubs are fakes, espiecially with popular brands like Ping, Callaway, or Taylor Made (Taylormade).
First of all do some research on the club, for example if you want a Ping G5 driver you should know what lofts they come in. That way if you see a 9.5 or 10 degree Ping G5 (not made by ping) driver for sell you'll know its probably a fake. The seller wont even have a picture of the club that lists it with that loft.
Another trick counterfeiters try to pull is that you impress you with a perfect or close to perfect feedback score. If you look closer though the feedback score will usually show less than 100 feedbacks. The feedbacks are primarily, if not all, from sellers, not buyers. If they do have feedback from buyers its usually from transactions made more than 6 months ago and you are not even able to see what it is they sold.
Usually the counterfeiter will list the club as new and show the same stock picture for all their clubs. The picture is copied from another website, and is not an actual picture taken of the club. Many time the picture wont even match the discription, for example the mislabled lofts or a picture of a left handed club with a description of a right handed club. Usually the product description is generic, and copied from another website too.
I would attempt to make most purchases from someone with an extremely high feedback store (1k or higher) and preferably from a seller with their own eBay golf store. Many sellers offer money back guarantees if the club is returned within a week. This allows you the chance to have a golf pro or shop owner take a closer look at the club for authenticity. Make sure the seller provides many up close pictures of the club at various angles (face, crown, head), and provides a detailed description of the condition of the club, shaft type, grip type, etc. Also dont be afraid to ask the seller any questions you might have. If anything about the item makes you feel suspicious just pass. The great thing about eBay is theres usually plenty of people selling the same club.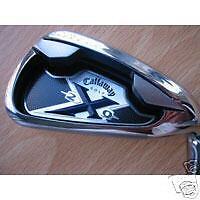 This is a FAKE Callaway.

DO NOT BUY FROM THESE SELLERS. I can't be any more clear that these are accounts that have been hijacked through phishing scams and the crooks are trying to take advantage of the time lag in retrieving funds and when you finally figure out that you have been ripped off along with hundreds of others.

If the user does not have a history of selling and delivering clubs or other items to what appears to be legit and diverse buyers then it is almost certain you will lose your money.

There are some instances where the seller will fall into the above categories and still be legit. Favorable signs of a legit auction are unique photographs, the sellers ability to provide more information about the item and/or additional photographs that detail the item and its condition.

Fraud artists mainly concentrate on ''must have'' items that are the rage at that time... whether it's the latest driver, an IPOD, Christmas toy or newest tech gadget. Always be careful when looking at and bidding on high interest items.
The listing is from China
They give % discounts in shipping for larger purchases
They have many of the same listing over and over again with the same pictures from different sellers.
They have private feedback (they do this because of people leaving feedback about being scammed)
Don't be fooled by them being verified, a powerseller, and or having an about me page!
Poor English in the title is a dead giveaway of a scammer
The scammers have been trying new tactics to completely scam people like you. NEVER purchase from an international seller which refers you to buy from their website (they do this to cut down on the negative feedback they receive to scam as many people as possible under once account before getting kicked off)
BUYER BEWARE!!! Dishonest people in the UK have now been purchasing these scam guitars on Ebay and reselling them on ebay as authentics to unsuspecting buyers
First Edition /All Black Taylor Made Super Quad R7/TP: Large numbers of these 'heads only' are being advertised, and pictured in plastic shrink wrap, yet TAYLOR MADE DOES NOT SELL THIS, OR ANY OTHER HEAD UNSHAFTED. Removing the shaft requires heating the hosel, which would melt the shrink wrap- obviously, these things are cheap, under performing Chinese knockoffs.
Fake Shirts: Any Callaway Shirt with the label "Callaway Golf Collection USA" in black is a fake imported from Asia. Callaway don't use this label!- These shirts also do not have a label with the country of manufacture. ALL golf shirts from the best known brands have a label stating the country of manufacture - Ask the seller if it has a label with country of manufacture!!
A few tips to help.
Cleveland CG1 Black Pearl irons: Check the MICRO-MILL stamp size...small is good, big is bad.
Cleveland CG2 irons: Bottom groove on face should be filled with white paint.
Taylormade R7 drives: Look for the shape of the center screw mold imprint...if it is rounded, it's fake.
Nike SQ+ driver: line thickness between chrome sole plate and yellow back imprint.
Another small tip: Taylormade serial numbers start with a number not a letter. Very rare you may have it starting with a 'T' thats only if it came out of the tour van.
I get abgry with buyers, yes buyers not sellers who buy a 300 pound club from an eBayer seller with 3 feedback. And these 3 feedback came from him buying somthing for a few pence.
I cantl ist everything here regarding fake golf club but remeber the golden rule;
If it looks too good to be true. IT PROBABLY IS.
Good luck, see you at the course.