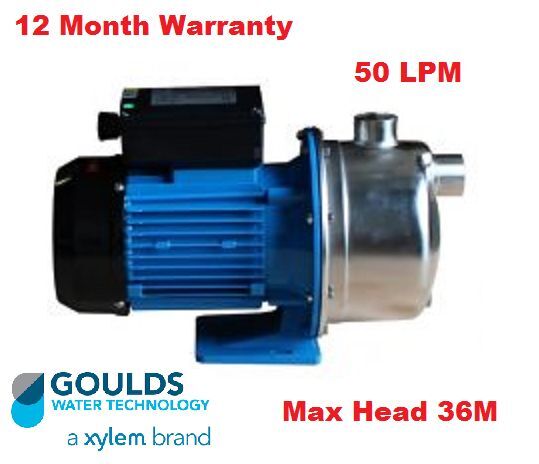 HANDLING - The product must be lifted and handled with care
APPLICATIONS- Designed to handle clean non-aggressive water free of dissolved gases. The BGR series may be used in garden, irrigation and domestic -applications

WORKING LIMITS -Max operating pressure 6 Bar, Max Suction head 8-9M, Ambient temperature (less than 40Deg), liquid temperature +5Deg - +50Deg

INSTALLATION- To install the pump follow these instructions:

place the pump as near as possible to the suction tank

do not submit the pump body to mechanical stress

the pump MUST be sheltered from weather (sun,rain,wind)

The suction pipe diameter must always be bigger than the suction port. In case of suction lift lower than 4M, always fit a pipe having large diameter. Always fit a foot valve with strainer on the suction pipe. Both suction & discharge pipe must be well fastened

5. ELECTRICAL CONNECTION- make sure that the mains voltage corresponds to the voltage specified on the motor rating plate and the reference characteristics (frequency, and input current) are shown here.
The connections to the mains and grounding must be executed by qualified personnel and in compliance with local installation standards.
Open the terminal box lid and carry out connections as per the diagram stuck on it.
The motor must be absolutely grounded before any other operation.
The single phase model features a built-in thermal protector.
For ambient temperatures of 40Deg to 45Deg, supply cables with temperature characteristics of at least 95Deg and minimum wire gauge of 1.5mm2 must be used
6. START UP- The BGR Series is self-priming. Self-priming without the foot valve may require up to 3-4 minutes
7.MAINTENANCE- The pump should be serviced by qualified personnel only, after having been disconnected from the power mains. No routine maintenance is required
8. SAFETY INSTRUCTIONS- Pay attention to the working limits. Improper use may damage the pump & other property, and injure people.
The pump is not suitable for use with flammable or dangerous liquids.
Make sure that the rated voltage & the mains voltage are compatible.
Connect to the power mains using a multi-pole power switch with a switch-contact gap of at least 3mm.
As an additional protection from lethal electric shock, install a high-sensitivity differential switch.
Make sure unauthorized people do not have access to the pump.
Disconnect the power supply to the electrical pump or unplug the machine before carrying out any maintenance, cleaning or handling operations.
If the power cord is damaged, it must be replaced by qualified personnel to ensure against hazards.
Do not run the pump with the ports closed.
Be alert to hazardous situations caused by accidental power failure.
Protect the pump from the weather.
Make sure the motor is properly ventilated. Warning:the motor can reach a temperature of 95Degress.