Grading from eBay scans isn't as hard as it looks, but it helps of course if images are good quality and size ! I always use scans, however these dull the image from so much direct light. The good side is they do often show off any bag marks, nicks flaws and WEAR. Digital photos with
Wear is very quick on gold sovereigns, just shop around Ebay without buying first. The fields do not have to be completely clean as many sovereigns were minted far from their destination bank and carried in bags by horse and carriage. The mint bags will cause many little marks, and the minting process can as well. However, many Australian coins even of the 1850's times exist for sale in MS64 and higher states, with 1 or no major bag marks and amazing appearance. The GEM coins that do exist are virtually never offered, held in private collections or by the mints themselves. Buyers should still be picky and examine the coin on a coin by coin basis, think of it as
every coin is different
.
Young Head and Sydney Mint sovereigns
These are the most popular series and my favourites, plenty of the Young Head types are worth a lot. Be sure to get a S or M mintmark. This is below the queen on St George sovereigns, and below the shield on shield sovereigns. SHIELD sovereigns may have NOTHING or a die number at that point, so ask the seller if you cannot read it.
Nothing or a die number means it is a LONDON minted sovereign and prices are completely different.
Be sure and compare to graded coins because plenty of sovereigns are not graded well and are lower grade than described. WEAR is the key point when looking at graded coins, light marks or even dirt only detract the appearance and value slightly. In real life these coins are a 10c size and UNC+ coins look amazing to the naked eye.
Truly MS 65 and other incredible GEM sovereigns of the older types are very hard to find, you are better looking for a PROOF at big auctions if you want a perfect gold sovereign - or buy one of todays celebratory sovereigns. The 1853-2003 issue which is an amazing boxed $10 proof which is a real "keeper", I have 2 and won't sell.
Mostly there can be a lot of EF coins which look UNC, they are not graded and the seller either doesn't know or doesn't describe the grade. Of the young head types, St George sovereigns are easiest to grade. Look at the riders helmet which gets a flat spot to the naked eye for EF and below. Big spot ? might not even be VF.
Look at the hair most importantly, and the overall lustre of the coin. Gold shows lustre well, you will see even glow and slight changes in tone. aUNC to MS62 coins display changes in tone around the lettering and are very obviously toned. Here's the hair in Mint State, note also the eye and hair bands. The hair bands are as important as the hair and should be crisp - this 2nd (back) band suffers from a weak strike. A line across the hair appears, however dark sports from very minor cabinet friction can appear and confuse. Look for the deep ridges that still exist, and for no wear that destroys those ridges (wavy lines very very deep in the design). This can usually be best soon only with an eyeglass.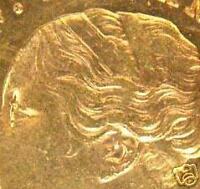 Seen in a scan, the hair can be seen to have depth, and more detail lines seem to appear deep in the cracks

The best indicator of grade is often this deep section of hair. Look for the bottom of it, nice and deep with extra detail lines appearing. If handled these coins will wear a flat spot OVER the tiny gaps as soon as rubbed. It looks as though there is that effect, but on closer inspection the groove exists.
Sharp lettering and numbers are a must. If the numbers on a St George look like a mirror as in a coin of mine (1879 MS62 NGC), its probably a MS61 to 64 coin overall, look at other points. Here's the numbers

You can also see the dragon is well formed, look for nice bumpy details like that and no flatness, light should reflect properly. The only way to do this without looking at the coin itself is to look where the light sources are (in case of a photograph)
WARNING
for photographs - coins that have a GLOWING RIM and overall glowing appearance are NOT special, and photographed using a simple trick to make this happen. This can hide detracting marks.


Sydney Mint
This unique design is very important in our coinage and is very rare in high grade. Virtually any year is hard to get UNC, only 1870 (the last year) is really achievable for under a couple of thousand dollars in true UNC full lustre etc. I can get the 1866 in true UNC beautiful coin no wear absolutely shining in colour.. for about $2000. They are not very easy to get at all.
This coin was graded AU58, notice the braids of hair. Wear starts with the wreath at the centre, and the lower braid of hair which runs around the ear. Also check the back (bun) section. Across the centre of the wreath is wear on this coin, an UNC coin will show only a little more detail though. This would be a hard section and hard coin to grade for new buyers.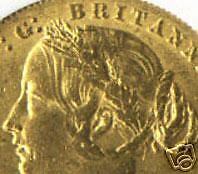 Really rare and worth having are just about all the other years (in general). The 1866 and 1870 show up lots, but other years in low grades are easy to get too. Worn away are not worth much though, most of them you need an EF coin for it to have any real value (jumps from $200 VF to $2000+ EF are common). If you are patient like me, you will come across lovely examples. Just search and spend the time to look them up.
The same really applies for all old half sovereigns. The reason is mass usage, it was very hard to keep hold of a new sovereign and not need to spend it.
The shield
Not my favourite type, but I do collect a few and sell them. They were minted for use in India mainly, and many good examples exist. These are best found by searching for DOURO and keep checking when you can. Many thousands of gorgeous coins were found in the Douro cargo and lots were shields.
UNC Shield
Again the mintmark, check the bottom of the shield. Shield sovereigns may have nothing or a die number at that point, so ask the seller if you cannot read it.
Nothing or a die number means it is a LONDON minted sovereign and prices are completely different.
Buying

Coins sold by the average person are also often not described in grade and will grade aUNC or better ! some of those old sovereigns are then worth $1000 and easy to obtain. GOLD is on the rise bigtime and will not stop for some time. You should however be looking for either slabbed (graded) sovereigns by searching for NGC or PCGS or ANACS, these are the only worldwide grading companies I will use.
You will NEED a book to know which varieties are which, so this of course goes for those interested in buying gold sovereigns. Have an interest, get a McDonalds catalogue (the one with all the gold coins on the front, NOT any other year) and enjoy !!
See my other guides and get a book for more information.