Graham Hill and Damon Hill Motor Racing
This is one of many illustrated classic motor racing guides I've created for the community. I hope you enjoy it. If you wish to find out more about the classic classic motor racing art featured in this guide please click here.
Tough Guys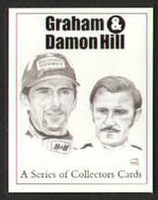 This guide covers the most famous father and son partnership in Motor Racing, that of Graham and Damon Hill. The eras and machinery may have been different, but the approach of both Hills was eerily similar: grit and determination would see them both through the worst times and to the Formula One World Championship.
Graham Hill - 1962 World Champion (BRM)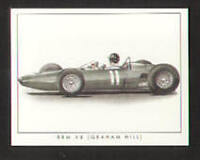 Most of Graham Hill's career was spent at BRM, with 10 of his 14 Grand Prix victories being won between 1962 and 1965. The 1962 season saw his mask-like determination and bristling moustache in the latest BRM V8s, and following victories in the pre-season meetings at Goodwood and Silverstone, he went on to win the Dutch, German, Italian and South African Grand Prix to pip Clark narrowly for the title.
Graham Hill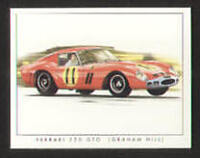 Graham Hill was an authentic British sporting hero, incredibly fast in his Lotuses and BRMs. From his Grand Prix debut at Reims in 1958 to his retirement in 1975, he had driven in a record shattering 176 Championship-qualifying races, had won 14 of them, had twice become World Champion Driver, and was the only man ever to have the World title, the Indianapolis 500 and also the Le Mans 24-hours classic.
Graham Hill - 1968 World Champion (Lotus)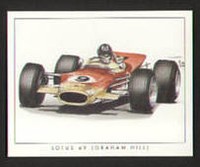 After the death of Jim Clark at Hockenheim in 1968 the burden of sustaining Team Lotus's fortunes fell squarely on Graham Hill's shoulders, a task he dealt with in admirable style by winning the Spanish, Monaco and Mexican Grand Prix in the Lotus 49 to ease out Jackie Stewart of the title.
Damon Hill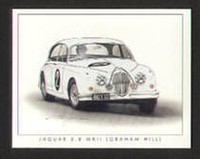 Damon Hill began his F1 career relatively late in life, making his debut for the Brabham team at the age of 32. He completed his first full F1 season for Williams in 1993 winning three races and finishing third in the championship. Three years later he claimed the World Championship title having nearly done so in 1994 and 1995.
Damon Hill - 1996 World Champion (Williams)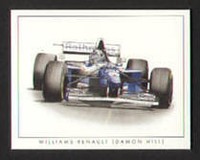 After the disappointment of 1994 and 1995, 1996 was the year that Damon finally managed to clinch the title, becoming the first son of a World Champion to do so. During the season he qualified on the front row of the grid for every race, taking eight wins and nine pole positions. Again that year the championship race rested on the final Grand Prix of the season but a truly great and determined drive from Damon on the rain-soaked Suzuka track gave him a deserved World Championship.
Damon Hill - 1998 Jordan Mugen-Honda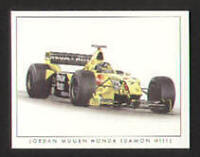 Following his championship winning season with Williams in 1996, Hill signed for TWR Arrows in 1997 wi what proved to be a disastrous year. The high point was the Hungarian Grand Prix where only a mechanical failure in the dying laps prevented Hill scoring the first ever Arrows victory. In 1998 Damon changed course and signed for Jordan Mugan-Honda. Despite a very poor start to the season he won at Spa-Francorchamps, proving his undoubted talent and giving Jordan their much needed first Grand Prix win.
Thank you for reading my guide and I hope you found it interesting!