Graphics cards are usually a fairly simple upgrade to your personal computer, only requiring a small screwdriver to open the case and replace or add the card. The hard part is determining which one, though, as there are many different types available, many of which can be found on eBay Australia, both new and secondhand. In order of oldest to newest, they are split into PCI, AGP and PCI Express connections. This guide is written to help you find which card is suitable for your computer, and what features are available so that you know what to look for.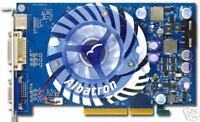 Why upgrade?
Graphic cards help take the load off the main processor and take care of what is displayed to you. The most common uses are for gaming and video display, but they are also used in specialised areas like engineering and computer aided design. Because of their different purposes and that they are effectively another computer on a card, they vary in their connection type, the type of connectors available, processing power, memory and features.
To understand the descriptions in listings you see here, there are two main manufacturers of the processing chip on the card. They are nVidia and ATI. The cards themselves are made by other companies such as Albatron, Asus, Galaxy, Leadtek, MSI, Sparkle and Xpertvision, who add in the extra features such as cooling, connectors, included software and cables. Although there can be small performance differences between the equivalent cards from different brands, the main difference in performance comes from the specifications on the card you choose.
1. Selecting the right type
The first thing you need to know is what connection your existing computer has. It will most likely only be one of these three. The best place to find out is from your motherboard manual or the specifications that came with your p.c. PCI (which is not compatible with PCI express) is the same connector as other expansion cards in your p.c.and is becoming very hard to get for graphics cards, as it was superceded over five years ago by AGP. These are white slots.

AGP slots are brown and the most common in computers bought in the past five years, prior to about two years ago. They have a white clip at one end to lock the card firmly in place. You may also see a number such as 4x or 8x after the name in your manual (e.g. AGP 4x). If so, you should make sure that the graphics card is compatible with this. For example, an AGP 8x card may not work if your computer is AGP 4x.

PCI Express are bright pink and were introduced in the past couple of years, and only now becoming more common. Generally, cards for these slots will be cheaper than their AGP equivalent and are the most current.
2. Chip Manufacturer
This is more a matter of taste, as ATI and nVIDIA are designed differently but generally have equivalent levels across their range. It can be simpler to upgrade to a card from the same manufacturer, as the drivers and way it operates will have similarities. See the next section for a grading, showing where they fit in with each other.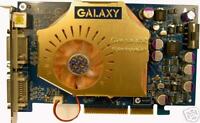 3. Performance
This is a somewhat subjective ranking of the different consumer market graphic cards available, with 1 being the fastest. Modifying cards will change their ranking in the table by up to about 5 positions, and card performance may vary by a position or two depending on manufacturer and configuration it is in. Note that performance can only be considered in comparison to the rest of your system. Even if you had the fastest graphics card, if your computer and its other components were a few years old and slower, the graphics card would never reach its full potential. Therefore, this table is most useful to look at within a range (or compare what you have against what you are considering). Many cards here are only available with one connection type as well, for example, those below rank 85 are generally AGP only, whereas the top group are generally PCI Express only. Another general rule is that, as performance increases, so too does energy consumption. If upgrading your card, you should also research how much power it requires, whether your power supply unit has sufficient power for the increase, and if it requires a separate power cable, that you have one. Consumption has been improved in some areas so it is possible that you won't use a greatly different amount of power when you upgrade.
Fastest
1. Geforce 8800 GTX SLI
2. Geforce 8800 GTS SLI
3. Geforce 8800 GTX
4. Geforce 8800 GTS
5. Geforce 7950 GX2 Quad SLI
6. Radeon 1900 XTX CrossFire
7. Geforce 7900 GTX SLI
8. Geforce 7800 GTX 512MB SLI
9. Geforce 7950 GX2 1GB
10. Radeon X1950 XTX 512MB
11. Radeon X1900 XTX 512MB
12. Geforce 7900 GT SLI
13. Geforce 7800 GTX 256MB SLI
14. Radeon X1800 XT CrossFire
15. Geforce 7800 GT SLI
16. Geforce 7900GTX
17. Radeon X1900 XT 512MB
18. Geforce 7600 GT SLI
19. Geforce 7800 GTX 512MB
20. Geforce 7950GT
21. Radeon X1950PRO (replaces X1900GT)
22. Geforce 7900GT
23. Geforce 7900GS
24. Radeon X1800 XT 512MB
25. Radeon X1800 XT 256MB
26. Geforce 7800 GTX 256MB
27. Geforce 7800 GT
28. Radeon X1800 XL
29. Radeon X1800 GTO
30. Geforce 7600 GT
31. Geforce 7800 GS
32. Geforce 6800 Ultra SLI
33. Geforce 6800 GT SLI
34. Radeon X850 XT PE
35. Radeon X800 XT PE
36. Geforce 6800 Ultra
37. Radeon X850 XT
38. Geforce 6600 GT SLI
39. Radeon X800 XT
40. Geforce 6800 GT
41. Geforce 6800 GS
42. Radeon X800 XL
43. Radeon X800 GTO 16
44. Radeon X800 GTO2 (Unlocked)
45. Radeon X850 Pro
46. Radeon X800 Pro
47. Radeon X800 GTO
48. Radeon X800 GTO2 (Locked)
49. Radeon X800
50. Geforce 6800
51. Radeon X800 GT
52. Geforce 6800 XT
53. Radeon X1600 XT
54. Geforce 7600 GS
55. Geforce 6600 GT
56. Geforce 6800 LE
57. Radeon X700 PRO
58. Radeon 9800 XT
59. Geforce FX 5950 Ultra
60. Geforce FX 5900 Ultra
61. Radeon 9800 Pro 256MB
62. Radeon 9800 Pro
63. Radeon X1600 PRO
64. Geforce 6600
65. Geforce FX 5900
66. Radeon 9800
67. Geforce FX 5900 XT (5900SE)
68. Radeon 9700 Pro
69. Geforce FX 5800 Ultra
70. Geforce FX 5800
71. Geforce PCX 5900
72. Radeon 9700
73. Geforce FX 5700 Ultra
74. Radeon X600 XT
75. Radeon 9500 Pro
76. Radeon 9600 XT
77. Radeon X600 Pro
78. Radeon 9600 Pro
79. Geforce FX 5600 Ultra
80. Radeon X1300 Pro
81. Geforce 6200
82. Radeon X1300 LE
83. Geforce 4 Ti4600
84. Geforce 4 Ti4800 SE
85. Geforce 4 Ti4400
86. Geforce 4 Ti4200
87. Geforce FX 5600
88. Radeon 8500
89. Geforce 3 Ti500
90. Geforce 3
91. Radeon X300
92. Geforce FX 5200 Ultra
93. Radeon 9600
94. Radeon 8500LE
95. Radeon 9100
96. Geforce FX 5200
97. Radeon 9500
98. Geforce 3 Ti200
99. Radeon 9550
100. Radeon 9000 Pro
101. Radeon X300 SE
102. Radeon 9600SE
103. Geforce 2 MX460
104. Geforce 2 Ultra
105. Geforce 4 MX440
106. Radeon 9200
107. Radeon 9000
108. Radeon 9250
109. Geforce 4 MX4000
110. Geforce MX200
111. Radeon 9200SE
Slowest
4. Memory
Although the newest cards have 256 or 512 MB or even 1 GB of memory on the card, most cards in general use will have 64 MB or 128 MB. This memory is reserved for graphical use so, aside from graphics, the computer cannot use it itself but it means that your computer's RAM is not used for graphics. Like the graphic processor in section 3, more is not always better as the amount of processing you do may not need large amounts. Again, try to assess what your needs are. 128MB is a good amount for most purposes.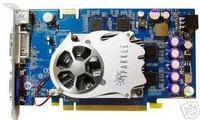 5. Card output sockets

The main thing to consider is what monitor you will connect it to. If you will use an existing monitor and that only has VGA, then you should ensure the card has that. VGA connectors are usually blue. Newer monitors and cards use DVI, which is white. Many recent cards have both, as well as other options. For example, the card above has S-VHS (also known as S-Video) which is useful to send the computer output to a VCR or television. People wanting to connect two monitors will need a card with two VGA and/or DVI connectors on it. A very small number of cards can handle three monitors.

When looking at graphic cards, and as shown throughout this guide, you will see they look quite different from one another. That is mostly for stylistic purposes and does not relate to performance.