Famous TT Riders
This is one of many illustrated classic motorcycle guides I've created for the community. I hope you enjoy it. If you wish to find out more about the TT rider art featured in this guide please click here.
This guide features several legendary TT riders.
Stanley Woods
Stanley Woods was the pre-war star of the T.T. , winning 10 times in total on a variety of machines. His record of ten wins stood from 1939 (his last win) until it was broken by Mike Hailwood in 1967. Stanley Woods' first TT win was in 1923 on a Cotton at the tender age of just 19.
Bob McIntyre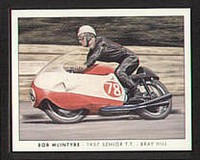 Scot, "Bob Mac" will always be remembered as the first man in history to lap the TT course at over 100mph in 1957 on the 500cc Gilera. Another rider that was an excellent engineer, Bob was also superb on the Honda 250 "4s" and 500 and 350 Nortons at the TT and a very tough competitor.
Mike Hailwood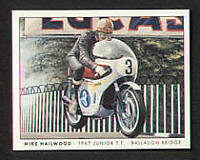 Mike Hailwood is probably the finest racer ever. His ability to switch to any machine, on any circuit, and win is without parallel. His record includes 14 T.T. wins (inc. 2 trebles in '61 and '67). His battle with Agostini during the Senior TT of '67 was awesome. On the 297cc Honda "6" Mike shattered his own lap record from a standing start. After 11 years absence, Mike came back to TT in 1978 and won on a Ducati. In 1979 he repeated his win on a Suzuki.
Bill Ivy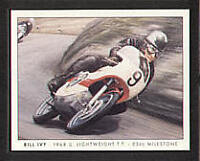 Bill Ivy was only 5'2" tall but was one of the bravest TT riders. His finest hour at the T.T. was the 1968 125cc race, when he became the first rider ever to lap the course at over 100mph on a 125cc machine. At this time Bill was the current 125cc World Champion. Spectators talk of Bill kicking himself off grass banks and clipping walls during his 100mph lap even today with awe.
Giacomo Agostini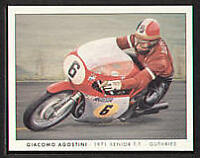 Agostini first saw the TT in 1965 but with Mike Hailwood to show him the way, was quickly able to learn this most demanding of tracks. Smooth and stylish, Ago pushed Hailwood to the limit in the 1967 Senior until the MV's chain broke with one lap to go. After Honda's withdrawal from racing in 1968, ago had the Senior and Junior TT virtually to himself until 1972. In total he gained 10 TT victories to add to the 15 World Championship he was to win.
Peter Williams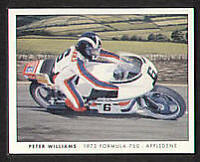 Peter did not always have the success at the T.T. his talent deserved. A superb engineer as well as rider, he was chief engineer for the development of the Norton Twin. This machine in its 1973 form, with a Monocoque chassis designed and developed by Peter, got its reward with a win in the Formula 750. The second Norton ridden by Mick Grant was runner up. Peter spent most of his TT career on his Matchless, battling against the might of Agostini on the MV.
Mick Grant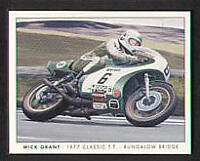 Yorkshireman Mick had a long and successful TT career on a variety of machines including Yamahas and Suzukis. Although later in his racing career Mike became a works rider for Honda and Kawasaki in GPs, he's best remembered on the Kawasaki 500 and 750 "Triples" of the mid-70s. Mick was also the man to break Mike Hailwood's lap record in 1967. The Kawasaki was timed at 191mph in 1977, still a fantastic speed even by today's standards. Won 7 TTs.
Joey Dunlop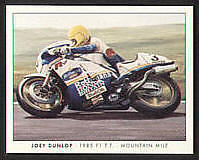 This quietly spoken Ulsterman, known to his fans worldwide as "Yer Maun" is the most successful TT rider ever. From his first win on a Yamaha in 1977 through to 1998, Joey won 22 TTs on all sizes of bikes from 125cc upwards. He had triple TT wins in 1985, 1988. Joey has also won the F1 Championship five times. Virtually unbeatable on closed roads circuits for 20 years, Joey has earned his title "King of the Roads".
Thank you for reading my guide and I hope you found it interesting!