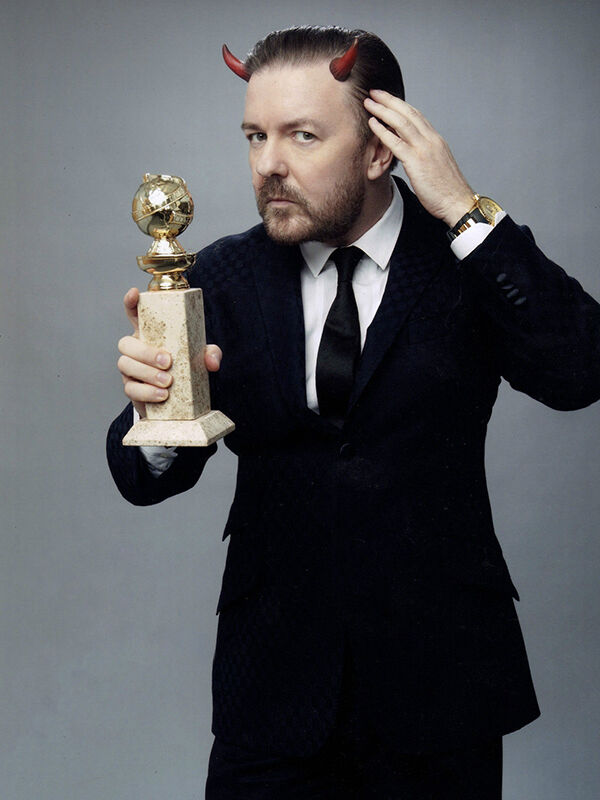 The famed precursor to the Academy Awards, the Golden Globes awards ceremony is the apex of Hollywood's awards season. This nonprofit organisation donates millions of dollars to entertainment-related charities. Less formal than the Oscars, this awards show put together by the Hollywood Foreign Press Association has a reputation for creating some astonishing moments. Fans of film and television looking for the latest DVD release on eBay might enjoy taking a moment to walk through some of the greatest moments in Golden Globes history.
Ricky Gervais roasts everyone
As the creator of "The Office" and "Extras", Ricky Gervais branded a very dry and cynical type of humour, but one that was always buoyed by his boyish mischief and ultimately good nature. The subtleties of his wit, however, seemed lost on the Golden Globes audience on several occasions when he hosted the awards ceremony three years in a row. In his final run at being the Golden Globes host, Gervais roasted everyone so thoroughly that the HFPA did not invite him back. While some were offended, many were ecstatic to see his peculiar brand of humour on such public display. Either way, his appearances ended up in the pantheon of standout Golden Globes moments.
Emma Thompson tosses her heels
Already known for her acting chops, Emma Thompson often gives her fans a glimpse of the mischievous side that makes her performances so charming. When presenting the Best Screenplay nominations in 2014, Thompson showed up on stage barefooted with her Christian Louboutin heels in hand, which she then tossed away over her shoulders. Her insouciant attitude and unwillingness to bend to proprieties charmed fans and members of the audience. Thompson herself received a flurry of nominations for screenwriting when she penned the script to Ang Lee's version of "Sense and Sensibility" in 1995.
The Rat Pack storms the stage
The awards show was a rather staid event for years, with the journalists themselves presenting the awards. This changed in 1958 when Frank Sinatra and the boys took over. Some members of the Rat Pack, Sinatra, Dean Martin, and Sammy Davis Jr., took over the stage, transforming the Golden Globes into a star-studded and entertaining event. The HFPA has not looked back since and, after inviting the Rat Pack back to repeat their shenanigans, continued the tradition of having the performers host the show.
Ving Rhames gives away his award
Riding several years of momentum after his performance in Quentin Tarantino's "Pulp Fiction", Ving Rhames won the Best Actor in a Mini-Series award at the Golden Globes for a performance as Don King in 1998. When Rhames took the stage to accept his award, he thanked his fellow nominees, but he did not stop there. He invited fellow nominee and film legend Jack Lemmon on stage and gave him the award instead.
Hugh Laurie thanks random people
Fans of British television already know Hugh Laurie for his wit and refinement, so they might not have been surprised when he got on stage at the 2006 awards and gave one of the funniest speeches in Globes history. Rather than plough through a long list of everyone he wanted to thank, Laurie instead pulled three random names from his pocket and thanked them for getting him on that stage. It was a demonstration of British wit.
Robin Williams improvises
The 1998 awards show must have been particularly fun for attendees. In addition to Rhames' kind gesture toward Jack Lemmon, the awards show also featured a moment of complete high jinx. When no one could find Best Actress Christine Lahti when the announcement came on that she had won, someone had to fill in. Fortunately, improvisation genius Robin Williams was in the front row. When it became clear that Lahti was not on hand, Williams jumped at the mic, filling in for a few minutes with his signature brand of comedy.
Tina Fey and Amy Poehler host
Television and film comediennes Tina Fey and Amy Poehler had a tall order of business in front of them, as they were hired to clean up after Gervais' run as host. Fortunately, their gentler jibes played well with the audience, and they reconfirmed the Globes as a fun and entertaining affair. Famous bits of theirs include Poehler posing as Fey's illegitimate son and a notoriously raunchy introduction of international superstar Leonardo DiCaprio. Knowing how to push the bar just enough, this comedy duo brought joy back to the evening.