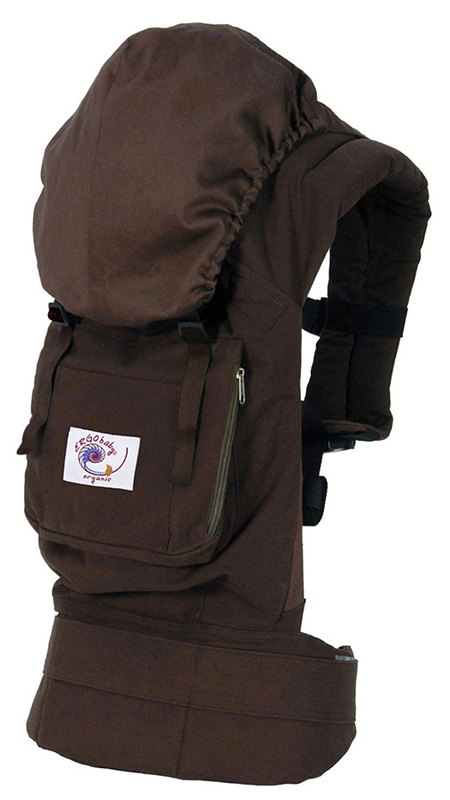 A baby carrier is an important purchase that deserves some thought to keep the baby safe and the adult comfortable while baby carrying. Learning the available types of baby carriers and the many variables to consider is a good start.
Soft Carriers
A soft baby carrier has a fabric seat with leg holes, allowing the baby to sit upright against the parent. Because it is flexible and adjustable, it is comfortable and can fit most adults who wish to carry their baby. Adjusting this type of carrier is usually as easy as loosening or tightening a few straps.
Soft carriers can be worn for both front and back carrying, but not usually hip carrying. The straps are typically padded enough to make it comfortable for adults to carry babies for long periods of time.
The maximum baby weight of soft carriers tends to be about 15 kilograms. This makes them great for older babies and even toddlers, but parents usually need to purchase a newborn insert to make such carriers safe for tiny babies.
Wraps
A wrap is another popular type of baby carrier. It is usually made of a simple piece of fabric that might be either woven or knit, and it is typically long enough to fit around adults of any size, making it easy to share.
Wraps are best when used with newborns, since the minimum weight for them is around three kilograms. While stretchy fabric wraps only hold up to about eight kilograms, woven wraps can accommodate up to 20 kilograms, so they can be used to carry toddlers. They can also be used for front, back and hip carrying.
The main downside is that wraps can sometimes be time-consuming for adults to put on. This is especially the case when there is a lot of extra material to wrap. However, once parents get used to putting on the wrap, they can usually do it quickly.
Mei Tais
Mei tai carriers have straps that come tied together, making them easier to use than wraps. In addition, this makes them easier to share between adults than carriers with buckles.
The positions that mei tais accommodate include front and back carrying; they are not great for hip carrying. They can be worn with newborns until about age two since the weight maximum tends to be around 18 kilograms.
Ring Slings
A ring sling is made up of one piece of fabric that has two rings attached. It is very portable since it can fold up small, and because it is so easy to adjust, it is great for sharing.
This type of baby carrier allows for front, back and hip carrying. In addition, it can be used from newborn to about two years old since the weight range is three to 15 kilograms. The only downside of the ring sling is that it might not be comfortable for more than a couple of hours because it is supported by only one shoulder.
Choosing the Right Baby Carrier
To choose the right baby carrier, it's important to consider ease of use; choose one that is easy to adjust, put on and take off.
The comfort of both the baby and adult should also be considered. Soft materials are great for the baby, while padded straps that rest on both shoulders are usually best for the comfort of adults.
The safety of the baby is also important. This means choosing a baby carrier that can handle the age and weight of the baby in question. It also means selecting a carrier that allows for the desired positions. For example, if parents want to back carry, they should choose a carrier that is made for this.
Conclusion
It's important to choose the right baby carrier for both the baby and the parent. Luckily, there are enough options on the market that all parents should be able to find at least one carrier that meets their needs. eBay is just one site that features a wide selection of quality baby carriers.