This guide will help you understand types of film, 'Use By' dates, and correct storage conditions. Out-of-Date film can be perfectly OK and there are bargains to be had. There has never been a better time to buy photographic film on eBay, as many traders and photographers are overstocked or quitting excess rolls. Check out film under Camera Accessories and you will find 150 - 250 entries at most times. This guide will help you make the right choice.
Different types of Film
Film comes in three main types, e.g., colour negative, slides and Black & White. Major brands are Kodak, Fuji, Konica and Agfa.The most common size is 35mm, with 120 (medium format) and APS (drop in load) being less popular. Film is available in various speeds (sensitivity), e.g., 100, 200, 400 and 800 are the most popular. Colour slide film is not as popular as it was and some good bargains are available. Black & White is still popular and you need to be quick to get a bargain! Hit the Buy Now button if it looks good. The 400 speed in colour negative is a very good film for a wide variety of conditions.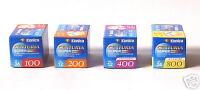 Film speed is listed clearly on the box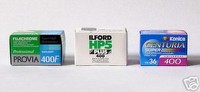 From left to right: Slide film, B & W film, Colour Negative film.
A word of caution - Film has a 'Use By' date
A lot of products, foodstuffs in particular, have a 'Use By' date. For film, this means if stored normally, it will provide optimum results. Stored 'normally' means a cool, constant temperature. It does not mean being subjected to hot sun. Film does not like 'thermal shock', i.e. being taken from hot to cold, or in and out of a fridge. Film that has been badly stored - even if it is in date - could be an unwise purchase.
Film 'Use By' date is clearly visible on box.
Is Out-of-Date film OK? What about other factors?
Stored in a cool, dark environment, photographic film will last for many years after the 'Use By' date, with little or no detrimental affect. Under good conditions, there is really no problem up to 3 years out of date. Colour slide film is more affected by storage and date factors. Black & White film is not as greatly affected. Some of the best deals going are on out-of-date colour negative film. Airport X-rays are a great hazard to film, so beware of film that has been purchased or taken overseas. Beware of film that has been carried through tropical countries as it may become 'heat affected' and give bad results. Damaged or dirty boxes could indicate bad or careless storage and the film will probably suffer quality loss.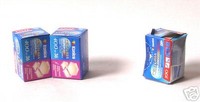 Damaged or dirty boxes (box on right) could indicate bad or careless storage.
What questions should a Buyer ask the Seller?
By asking the right questions to a seller, you will be able to judge the storage and quality of the film are are bidding / buying. Below are the FAQ's that you should condsider when buying film.
Is the film new stock, purchased in Australia?
What is the 'Use By' date of the film?
Has it been stored correctly and if so, how?
Is it shop stock, a job lot, or a personal purchase?
Has the film been through airport X-rays or tropical countries?
Does the photo in the listing depict the actual product?
Sellers should be quite happy to answer any question and you be the judge when you get the answer! Remember, there are some great film deals on eBay. Good luck and Happy Bidding!