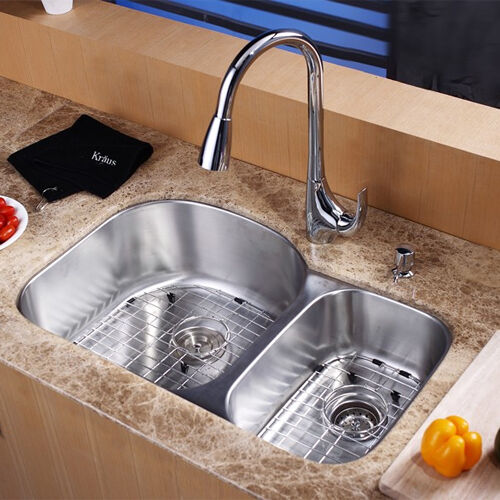 Kitchens are considered to be the centre of the home. This is why so many people often invest their money and energy into creating their perfect kitchen. Many people are remodelling their kitchens, which often includes installing a new granite countertop. In doing so, part of their kitchen remodelling project may involve replacing the old kitchen sink and its hardware. If it is time to buy a new kitchen sink, there are a few things a buyer should know.
Function
Instead of deciding on a kitchen sink based simply on the way that it looks, one must consider two other important factors: the available space and the functionality of the sink design. One should think first about the available space they have in their kitchen to fit the sink before shopping any further. Always take an exact measurement of the sink space to be sure the desired sink is going to fit in the kitchen.
The depth of the kitchen sink is also important. For example, if the homeowner loves to cook using large roasting pans, one would need to make certain they were going to be able to fit those pans in the sink to wash them. Kitchen sinks are typically between 6 and 12 inches deep. When selecting the sink depth, the height of the homeowners should be taken into consideration to ensure that the user is comfortable. In general, deeper sinks are more advantageous as they accommodate large items and keep water from splashing out.
Style
There are at least three types of kitchen sinks: undermount, top mount, and apron front sinks.
Undermount Sinks
These are the most popular as they have one main advantage. They are raised in from below, therefore they do not have an edge which overlaps the surrounding countertops. This makes cleanups easier, as there are no crevices to attract dirt and mold. However, they take more effort to install and may only be used in combination with waterproof countertops. Undermount sinks may also feature two separate wash basins, with one typically being smaller than another.
Top Mounted Sink
Also known as a drop in sink, the top mounted sink's main advantage is that it costs less than the rest. However, it is not as easy to keep sanitary. They are typically available with either a single or a double bowl.
Apron Front Sink
Commonly referred to as a farmhouse sink, an apron front sink looks especially appealing in a kitchen with rustic or old world decor. A farmhouse sink consists of one large wash basin with the faucet installed in the countertop or the wall.
Materials
Kitchen sinks are most commonly made of stainless steel. Stainless steel is a desirable material for kitchen sinks for many reasons. Strong, light, and durable, stainless steel has a desirable shiny finish and is rust-resistant.
Enamel sinks are another popular choice for a kitchen sink. Enamel sinks are essentially a glossy surface coating which has been painted over steel or iron. Enamel sinks are appealing because they are available in a wide range of colours to accommodate many design palettes. Enamel sinks are also a relatively cost-effective choice. The main disadvantage of an enamel sink is that it may be prone to chipping.
Porcelain and fireclay are two less common materials for kitchen sinks. Although appealing to look at, they both may chip or crack if too much weight is dropped into them at once. Other kitchen sink materials may include marble, stone, glass, granite, and concrete.

Considerations
The cost of the kitchen sink is dependent on the quality of the material, the style and manufacturer of the sink, the size of the sink itself, and its condition (new or used). Here are some considerations for purchasing a kitchen sink:
The material the sink is made from is of greater importance than the manufacturer itself. A brand name sink is not necessarily better than a generic sink.

Make sure the sink has enough holes to accommodate all of the faucets and fixtures one might select.

Sinks come in thicknesses of 18-23 gauges. The lower the gauge, the thicker the steel.

Some believe a kitchen sink with a lower gauge will perform better. However, the thickness of the material has little to do with its overall performance.
How to Buy a Kitchen Sink on eBay
An excellent selection of kitchen sinks can be found on eBay. Simply type in the words 'kitchen sink' into the search bar at the top of the page and be taken to many different styles of kitchen sinks being sold on eBay. To search for a more specific manufacturer, enter the brand name as well ( for example: "Kohler kitchen sinks"). To search for kitchen hardware to match the sink, use a phrase such as "kitchen sink faucets."

Conclusion
In determining if the kitchen sink will be able to fulfil its function, the size, style, and material should be taken into consideration. The buyer should then select the sink which is most visually appealing to them in regards to their personal taste and kitchen decor. To find a great selection of sinks at good prices, search eBay.