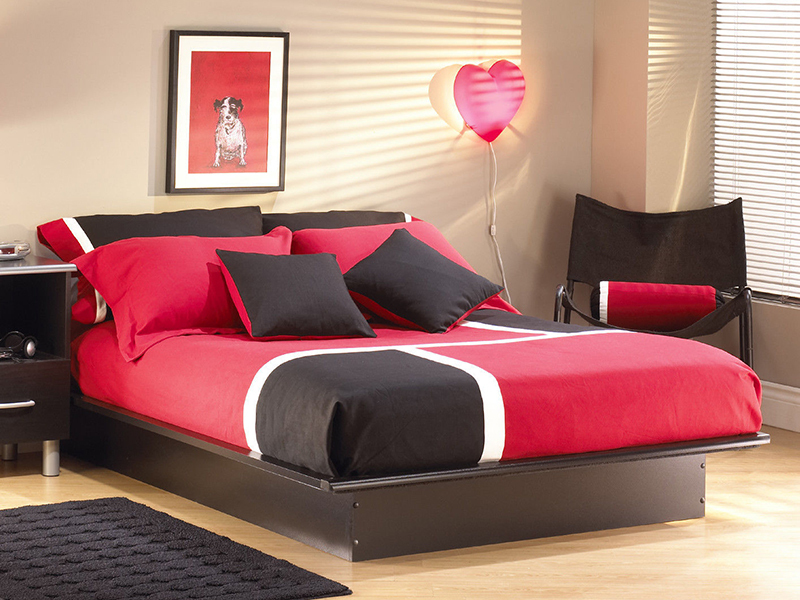 A bed is one of the most important purchases anyone can make. The room provided by a queen bed is enough for two adults to sleep comfortably side by side. A typical queen-size mattress measures 60 inches by 80 inches, but in parts of Europe the queen is a bit wider and measures 63 inches by 78 inches. An ill-suited mattress will cause a sleeper to feel cramped, which can lead to tossing and turning. Eventually the person will lose sleep because he simply cannot become comfortable.

Bed Frame
Comparison shopping will give the buyer an idea of what type of queen beds and mattresses are available. Often the bed frame that supports the mattress is just as important as the mattress itself. The entire ensemble should be pleasing to the eye and fit into the decor of the bedroom to create a sleep haven.
Storage Beds
A storage bed is ideal for a small bedroom because it has drawers located under the mattress. The drawers easily hold clothing, bedding and other items. A storage bed can eliminate the need for a dresser in a small bedroom. Most storage beds have a built-on headboard and footboard to complete the bed's appearance. Some have headboards that boast shelves for additional storage.
Standard Bed Frame
A standard bed frame is a cost-saving option that supports a queen mattress. It can be simple, or boast an elaborate headboard or foot board. The standard bed frame supports the mattress and box springs with wood or metal slats. Depending on the style of bed frame, there are bowed or solid slats to hold the mattress in place.
Fold-Out Bed
A fold-out queen-size bed is a couch or futon that folds up during the day. This bed takes a thin, queen-sized mattress that readily bends for storage. People use fold-out beds in guest rooms or in living rooms for overnight guests. The bed remains in its folded position when not in use. Often people cannot tell a couch holds a queen size sleeper until the couch's cushions are removed and the mattress is pulled out.
Divans or Spring Box Set
A divan, also called a spring box, holds a queen mattress by supporting it with a wire frame or cloth covered wire. Sometimes the frame is made from small pieces of wood. A divan is usually two pieces that fit together and hold the mattress above the ground.

Different Types of Queen Mattresses
There are three kinds of queen-size mattresses commonly found for sale. Each one has its benefits to the sleeper.
Spring Mattress
The spring mattress is manufactured from individual springs that provide support for the sleeper's body. The springs are encased in foam and fabric and are interlocked for a sturdy feel. Tight springs provide a firm mattress and loose springs give the feeling of softness.
Foam Mattress
A foam mattress has no springs and is made entirely of hard or soft foam. The foam has form-molding capabilities, so it conforms to the sleeper and offers support in all the body's key areas. Back pain sufferers often prefer a foam mattress for the spinal support that they need.
Air Mattress
An air mattress is a popular option for guests. The mattress is blown up with air before use and then easily deflated for compact storage. A few companies sell mattresses that feature air coils, and this sort of mattress is never deflated. The sleeper uses a remote to control the level of air in the mattress. A lot of air makes the mattress firm, and deflating the mattress makes it soft. An air mattress lets the sleeper control what kind of a mattress – hard or soft – they want to sleep on each night.

How to Buy a Queen Bed on eBay
eBay offers a wide array of queen mattresses and beds. Some are available for pickup, and others have delivery options. The buyer enters "queen mattress" or "queen bed" into the search bar at the top of eBay's home page. A list of mattresses or beds for auction or immediate sale will load. The buyer can then narrow the search results down to the exact bed or mattress he is searching for. The left side of the screen shows product types, materials, colours, location, condition, and price.

Conclusion
Shopping for a queen bed has never been easier. A buyer can sit in the comfort of his own home to shop by utilizing eBay's marketplace. With a bit of research, the buyer is sure to find the queen bed and mattress that will work perfectly in his home.