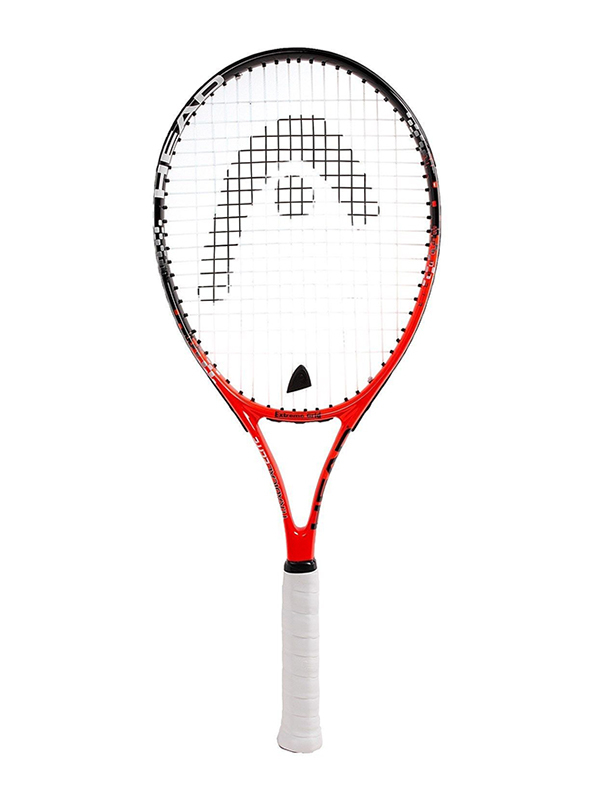 Buying the right tennis racket means knowing what a racket can deliver in terms of control, durability, power, and manoeuvrability. Today, there are nearly endless choices in terms of racket sizes, weight, grips, and racket materials, which can sometimes leave buyers confused.
Racket Power
For the most part, a larger head will provide more power behind shots and a larger "sweet spot." For beginners or intermediate tennis players, a larger head is usually preferable, as it is more forgiving for players who misjudge a shot and the added power helps make up for an undeveloped swing. For more advanced players, a smaller head allows for more ball control and manoeuvrability, allowing players to put the ball exactly where they want it.
The most common head size for serious players is between 612 square centimetres and 710 square centimetres, but sizes can range from 550square centimetresto 885square centimetres.
Racket Length
The standard racket length is 69 centimetres long, but rackets can go up to 74 centimetres, which is the legal limit for tournament matches. The longer the racket, the more reach players have for ground strokes and serves. Often, longer rackets that are at 74 centimetres are even lighter than standard-sized rackets to ensure that they're still properly controllable.
Tennis Strings
Tennis string patterns can have a measurable impact on player performance. Racket with a more "open" pattern can give the ball more spin, as the ball becomes slightly embedded within the strings during a stroke. An open string pattern is also more flexible, resulting in a quicker rebound.
A denser string design will result in less rebound, but will allow tennis strings to last longer. They also allow for slightly more control, as the strings won't be moving as freely as they would with an open pattern. This makes denser designs a good pattern for players who hit hard and like more control.
Weight
Advanced players tend to like a racket that is "head-light," which allows for maximum manoeuvrability and control. For more swing power, a "head-heavy" racket is usually the better choice. There are also "head-heavy" models that feature very light handles in order to keep the overall weight low and the swings powerful.
A player should also keep in mind that an overall lighter racket will allow for faster swings, but can lead to increased impact and vibration on the body, which can eventually lead to elbow and wrist injuries.
Many beginners start with rackets that weigh between 285 grams and 325 grams, and then find what weight fits them best as they advance. Heavier rackets will slow down a player's shot and lead to less manoeuvrability, but can deliver more power and reduce shock.
Handle Grip
In terms of handles or grips, most manufacturers have different designs that can absorb shock and reduce vibration. Finding the right handle grip is often more about trial and error, and may take playing with a number of different rackets over time. In general, a small grip can help you feel more in control of your shots, and there are certain methods like adding tennis tape to the racket to make the grip bigger if you find it necessary. Beginners usually do well enough with the standard grip seen on most basic tennis rackets.
Racket Materials
For many beginners, purchasing a racket made from standard aluminium and pre-strung fabrications is perfectly acceptable. However, intermediate or advanced players may want a material that is more flexible than aluminium, which can sometimes produce shots that are too powerful. Many choose graphite rackets or other composites like titanium, but these sturdier materials will usually mean a more costly racket.
Conclusion
For players who want to play the best tennis possible, it's important to take playing style and skill level into consideration. For athletic beginners and advanced players, it's probably best to follow this guide to purchase a racket with more control and less power. For other beginners, a bigger head size is best, along with a heavier racket and "head-heavy" model for maximum performance. A wide selection of tennis rackets can be found on eBay.