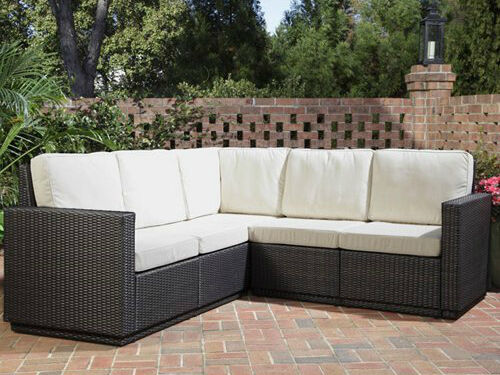 Having an outdoor sofa is a great way to turn a patio or deck into a second living room. The outdoor seating area is a good place to entertain family and guests, especially during warmer months. But to do all this, a durable and comfortable outdoor sofa is necessary. An outdoor sofa takes relaxation to an entire different level. After all, nothing could be more refreshing than lounging around whilst taking in the beauty of the great outdoors. However, the great outdoors be harsh at times, so outdoor sofas have to be built to withstand the elements.
Factors to Consider in Buying the Right Outdoor Sofa
There are a wide array of options available when it comes to outdoor furniture. However, for shoppers to be satisfied with their purchase, they need to review and compare different products. Here are some important considerations when shopping for an excellent outdoor sofa.
Frame Material
Frames come in a variety of styles, at different prices, and with different levels of durability. Frames are the basic support for the weight of those sitting on the sofa, so they need to be sturdy. Here are the most popular frame materials available.
| Material | Pros | Cons |
| --- | --- | --- |
| Metal | Metals, particularly rust-proof aluminium and stainless steel, provide sturdy support for an outdoor sofa. They can be moulded to form different styles and require little maintenance. | Outdoor sofas made of metals can be very heavy and the good ones can be expensive. |
| Wood | Treated wood can last for many years, even in an outdoor environment. Unlike metal frames, wooden frames don't get hot in the heat of the sun. | Paint and finishes can fade or peel after many years. If placed on grass, the wood may rot because of moisture. |
| | Wicker is light, so sofas made of this material are easy to move around. | It isn't a good material for large sofas, as it may not provide the necessary sturdiness. |
| Plastic | Outdoor sofas made of plastic are very affordable. They're also light, making them easy to move around. | Plastic frames aren't as durable and don't look as elegant as those made using other materials. |
Size
To determine the size of an ideal outdoor sofa, shoppers have to consider the size of the patio and their personal preference. They also need to determine the arrangement of different furniture on the patio, and keep in mind the space needed for people to comfortably move around the area.
Fabric
An outdoor sofa fabric should be made with fabric that can withstand exposure to outdoor elements. The fabric also has to provide a good level of comfort and durability. Here are some popular choices for outdoor sofa fabric.
| Outdoor Fabric | Pros | Cons |
| --- | --- | --- |
| Marine Fabric | This is a waterproof and durable material that is easy to clean. | Designs are limited because this material is not suitable for prints. It can be on the expensive side, too. |
| Canvas | Made of natural material, canvas is easily printed and dyed. Some is treated to become water and fire resistant. | It stains easily and can be hard to clean in case of spills. It contains linens and cotton, which may cause an allergic reaction in some people. |
| Polyester | Polyester is available in variety of prints and colours. It is mould resistant and very comfortable. | It's not a waterproof material. |
Style
For people who are looking for an outdoor sofa that would complement their other patio furniture, style will be a key factor in their choice. Fortunately, outdoor sofas have varying colours, prints, and patterns. There's bound to be something for everyone. In general, wicker or wooden outdoor sofas exude traditional style. Metals, with the right finish, give off a contemporary look. Shoppers should choose something that reflects their personal style and blends well with the overall design of the den or patio.
How to Buy an Outdoor Sofa on eBay
Buyers who want to shop for outdoor sofas will be pleased with the extensive range of options on eBay. They just have to go to Home & Garden category, then select Furniture, and then Outdoor Furniture. Alternatively, they can type "outdoor sofa" into the search bar. To narrow down the search, they can use eBay's filters to select the desired brand, material, and condition of the sofas. Additionally, eBay provides product descriptions and images to make it easier for shoppers to review and compare several listings.
Outdoor sofa can enliven any outdoor space. The good thing is, there are so many varieties to choose from and people can shop around for the ideal sofa right at the click of a button.