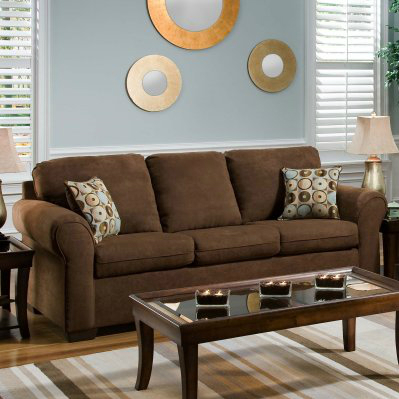 More often than not, the sofa provides the focal point of any room, so it's easy to understand how frustrating it can be to find the perfect one. Everyone has their own opinion about what the perfect sofa should be. Things like size, colour, and material all have to be taken into account. The good news is that eBay has a generous selection of sofas available. The wide selection increases the odds of finding the perfect sofa. Australian consumers can start perusing eBay's Home & Garden section when they're ready to start shopping for the perfect sofa.

Important Factors in Buying a Sofa
Considering how much the average person uses their sofa, it stands to reason that everyone should place a great deal of importance on finding one that's both attractive and comfortable.
Size
Not only does the size of the sofa impact how much the piece of furniture will cost, buyers also want to make sure it will fit in the intended room. The best course of action when ordering a new sofa is to measure the space the sofa will go, and using the result to narrow down the selection.
Colour
It's difficult to fall in love with a sofa when it doesn't match the room it's placed in. The good news is that, if a sofa is found and the only feature that's not perfect happens to be the colour, the appearance can be altered with good quality sofa covers.
Sofa Styles
There are a mind-boggling number of sofa styles. Consumers need to carefully consider how they intend to use the sofa before they make a final selection.
Reclining Sofas are perfect for anyone who likes to stretch out and doze in front of the television after a long day at work. In addition to a back that can be tilted back, most reclining sofas also have a built in footstool.
Corner Sofas are designed to tuck into the corner of the room. They are great for flats and small houses where there isn't enough room for a traditionally styled sofa.
Sofa Beds are a great choice for anyone who frequently finds themselves hosting guests. Different sofa options feature different bed styles, everything from futon style to queen size, all of which are preferable to sleeping on the floor.
Modular Sofas are excellent for buyers who are struggling to fit a sofa into an oddly shaped room, or buyers who like to use their furniture to create a unique look.
Sofa Material Choices
The type of material a sofa is made out of directly impacts the amount of care the sofa will need and how comfortable it will be. There are several different sofa materials home owners will want to consider when shopping for a new or used sofa for their home.
Leather is the preferred material choice by anyone who desires a sofa that looks great, is durable, and is comfortable. The leather used to make leather sofas is very soft and smooth, and can be used to create a variety of textures. Individuals who own cats and dogs might want to skip leather sofas since the pet's claws can puncture the material.
Sofas made out of cotton retain their good looks for several years, even when they're used heavily or subjected to large quantities of sunlight. Canvas cotton sofas are an excellent choice for anyone who has pets or young children.
There's been an increase in popularity in sofas made out of synthetic fibers, mostly because the materials have become more attractive without losing any of their durability. Nylon and polyester are the most common choices.
People who purchase a vinyl sofa love the fact that they've acquired a sofa that looks like leather, but only costs a fraction of the price. Since vinyl is very durable and easy to clean, it's a great choice for anyone who has young children.

Buying a Sofa Via eBay
Consumers will be thrilled both with the wide selection of sofas available on eBay and the ease with which the perfect sofa can be purchased. The easiest and best way to find a sofa is to type a description into the search bar. The more details that can be provided regarding type, style, colour, and material the more streamlined the results will be.

Conclusion
Finding the perfect sofa takes some time and forethought, but once buyers have considered all their options, they'll find what they want in eBay's home and garden section.