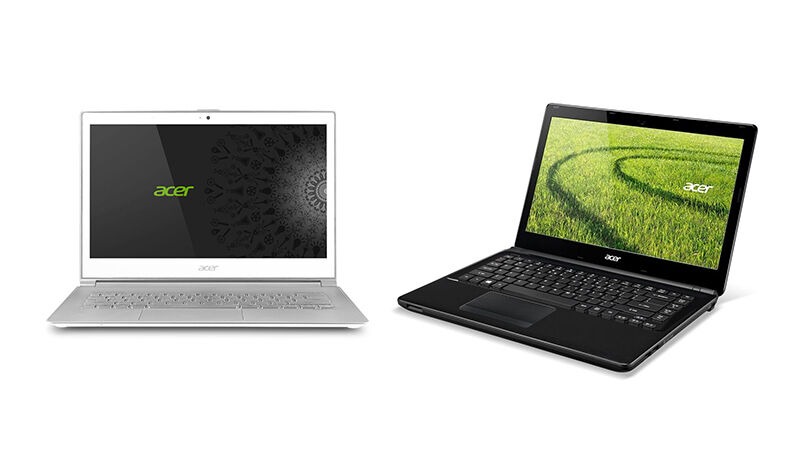 Two of the most popular mobile personal computers today are Ultrabook and laptop. While they both suit our mobile computing lifestyle, they are two very different devices. The best way to know which one is a better investment is to learn their outstanding features and their limitations. While laptops are well established in the market, Ultrabooks are fairly new. Understanding the basics about the Ultrabook is essential if you plan to purchase one from an online retailer.
What Exactly is an Ultrabook?
An Ultrabook is essentially a new breed of laptop under the branding and marketing direction of Intel. Intel prescribes two specific conditions to laptop manufacturers before they can use the Ultrabook label on their new lines of mobile personal computers: thickness and software.
Thickness
The thickness of a mobile computer (also referred to as its height), is the measurement from the bottom part to the back of the screen panel when the laptop is closed. Thickness determines if the laptop can securely support the screen size.
Intel imposed a height restriction on Ultrabooks which is 2.3 centimetres for models with touchscreen display and 1.8 to 2.1 centimetres for non-touchscreen models to ensure that the enhanced mobility design is met. The result is that although an ultrabook is slimmer and lightweight, it doesn't have an optical drive (DVD or CD drive) and removable battery.
Laptops have a standard thickness of 3.175 centimetres, supporting the normal screen display size of 35.56 to 40.64 centimetres. The thicker design means laptop users can enjoy using their built-in DVD drive, use multiple ports and replace their old batteries.
Security
Ultrabooks need to be bundled with the Intel Management Engine (Intel® ME) security technology. This means that all Ultrabooks must be equipped with Intel Identification Protection Technology and Intel Anti-Theft Technology with high-end tracking and blocking features for lost or stolen mobile devices.
Laptops have the standard anti-virus and anti-malware protection but can also be equipped with similar security technology depending on model, manufacturer tie-up, or personal bundling by the user.
Ultrabook's game-changing security and mobility features have made a mark in the market. In Australia, Ultrabooks are manufactured by Acer (Aspire), Asus (Zenbook), Dell (XPS), HP (Envy), Lenovo (IdeaPad), LG (X-Note) and Toshiba (Portégé).
Face-Off: Ultrabook vs. Laptop
The ultrabook and the laptop have their advantages and limitations and choosing between the two may not be that easy. The good news is that there is no absolute good feature or bad feature for both the ultrabook and the laptop. The ultimate decision is based on your personal needs and preference as a user. As such, making an informed decision entails going through the major features and comparing them head-on.
Processor
The processor determines performance in terms of speed, multitasking and work continuity. A dual core processor refers to two cores integrated in one processor chip, which means its performance is doubled in terms of speed (Gigahertz) and memory (RAM). The processor's thermal design power (TDP) determines seamless work capability. Lower TPD means cooler processor and continuous work mode.
Intel remains the leader in computer chip processor, hence, it translates to quality and reliability. Ultrabooks owners can depend on their device delivering optimum multi-tasking performance for a variety of works: professional graphic design, gaming, simultaneous browsing, video streaming, audio playback, and document management, among others.
Laptops have either the AMD mobile processor, which runs on 28 nm (nanometre) technology (versus Intel's more powerful and faster 22 and 20 nm), or Intel's old single-core processors. While not as powerful as ultrabook, these processors deliver well for standard use, with additions of gaming and audio-video streaming.
Weight
There is no specific weight restriction for an Ultrabook. Yet as a consequence of its slimmer design, they are far lighter at 1.4 kilograms compared to laptop's standard weight of 1.8 kilograms. They also have sleek-looking lighter shells made of aluminium, carbon fibre, or glass finishing.
Battery Life
As an Intel requirement, Ultrabooks should run from five to nine hours when fully charged, and seven days on standby.
Laptops have varying battery life depending on the manufacturer specification for battery cells, with an average of four to five hours for continuous wireless use. High-end ones can rival the Ultrabook's battery life, like Acer TravelMate P645 (nine hours) and Apple MacBook Air (12 hours).
Price
Youcan get a good quality affordable laptop for AUD $100. At AUD $500, a standard Ultrabook costs several times more, while premium models with new Haswell processors start at AUD $1000.
Conclusion
If you want enhanced mobility, superior security and a physically stunning mobile personal computer, the Ultrabook is your best bet. If you're after dependability, proven functionality, and simpler maintenance, you will be satisfied in buying a good laptop.