If you're a prescription wearer there's good news. The eyewear industry has adapted to your needs and you can now easily wear sunglasses and sports eyewear that is precisely matched to your prescription needs!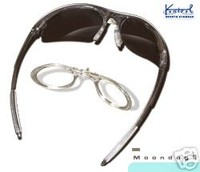 * Fitovers:
A separate sunglass developed to fit over 90% of the prescription eyewear made today. This is a quick easy option with no need to go to an optometrist but for the fashion conscious, it leaves much to be desired.

* Authentic Rx Lens:
Comes directly from the frame manufacturer, thereby giving you all the features of that manufacturer's specialty lens with your custom prescription. Often, the manufacturer's logo is etched onto the lens as a symbol of authenticity. You can order lenses mounted in a wide variety of tints, frames and lens styles directly from the manufacturer. You'll need to order both the sunglasses and lenses with your prescription direct from an Authorized Factory Optometrist. This is the most expensive option by far.

*
Rx adapters:
A lens adapter method developed to snap in behind the bridge and adapt a normal pair of sunglasses for prescription lenses. Inexpensive, fast, easy to keep current using your local optometrist. This offers the option of having interchangeable lenses for different light conditions. An added benefit to this is, if the outer lens is scratched, it is inexpensive to replace (usually $24-50) as opposed to a prescription sun lens ($50-350 or more). These glasses also offer more coverage due to their shield design, making them perfect for sports activities. The best of all possible worlds.