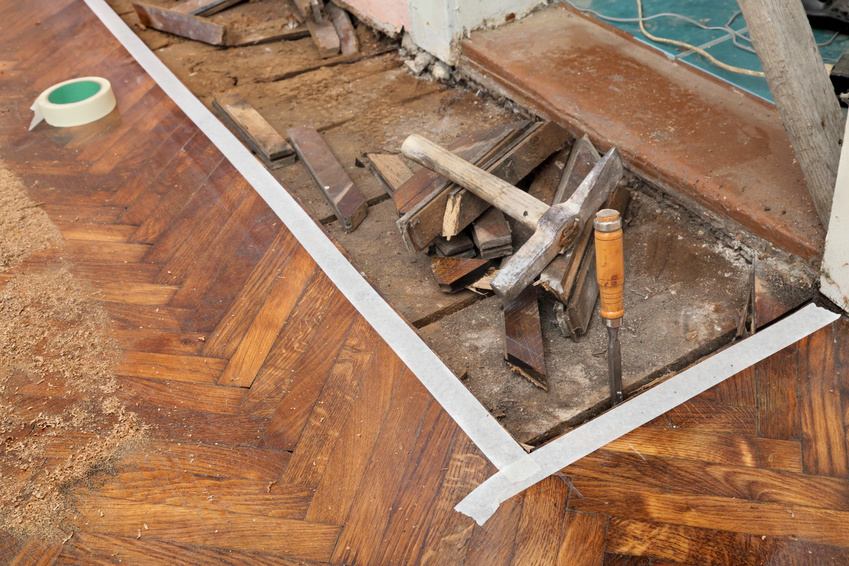 Hardwood floors are beautiful features within the home; however, upkeep can seem rather tedious, especially when homeowners are trying to mask the appearance of a damaged wood floor. What many are unaware of is repairing a damaged hardwood floor can be incredibly easy, even for those without a lot of experience fixing things around the house. With the right tools and products and a little bit of time and patience, once-damaged hardwood floors will look as good as new, creating the foundation for a beautiful living space.
Repairing Cosmetic Damage to Wood Floors
Over time, cosmetic damage is bound to happen to even the finest hardwood floors. Foot traffic, spills, dings, and other damage wears away at the once shiny, varnished wood. Signs of age become evident, and area rugs find seemingly permanent homes over the worst spots. Let those beautiful wood floors show their lustrous, polished facades once more with these simple repair steps.
Step 1: Remove the Old Varnish
There are two ways one can remove varnish from a wood floor. The first is a chemical method that involves using stripping agents or solvents to chemically remove the varnish from the wood. The second method is using an electric sander to do the dirty work. Professionals use a machine stripper. It is fast and effective, but it is an extremely expensive method for the average person. Chemical stripping is fast and inexpensive, but the fumes are toxic and the materials should be handled with care. Other chemical options include various solvents. They have milder fumes, but take quite a bit of time and effort to work. An electric sander may not be the fastest way to get the job done, but it is chemical free and can be used for various other renovation projects around the house.
Carefully remove the varnished surface evenly from the wood with the chosen method. There may be some deeper imperfections. It is not necessary to sand or strip all the way down to conceal these imperfections. That will be covered in step two. If using an electric sander, be sure not to bear down on the wood too hard. This will create circle patterns from the sanding surface that will show when the new coat of varnish is applied.
Step 2: Repair Small Imperfections
Dings, scrapes, and other small imperfections will need to be repaired before a new coat of varnish is applied to the floor. Those marks that still show up when the floor has been stripped can be filled in with wood filler, a simple solution that is inexpensive to purchase and can be matched closely to practically any shade of wood. In this case, the filler should match the shade of varnish the homeowner intends to use. Using a putty knife or scraper, simply spread the filler into the imperfection. Allow it to dry according to package directions, then sand the surface evenly.
Step 3: Apply Varnish To the Repaired Floor
After carefully cleaning up any dust or dirt, move on to varnishing the floor. If a patch of flooring has been sanded and filled, then the varnish used must match the varnish of the rest of the floor exactly. If the whole floor has been sanded and repaired, it is possible to start from scratch with a new colour for an entirely new look. Varnish or stain should be applied and left to set as per the directions on the back of the container for best results.
Tackling Severe Wood Floor Damage
Some wood floor damage may be too severe to fix with these simple instructions. These types of severe issues often require the handiwork of a professional as quickly as possible to avoid cracking, breaking, splitting, or rotting – problems which are eyesores in the home as well as hazards to health and safety. Those who want to tackle a DIY job for severe flooring damages can purchase replacement boards, but many people choose to hire flooring professionals to take care of these problems. Professionals can check for other signs of damage from mould, water, or other factors that caused the damaged floor in the first place.
Buying Wood Floor Repair Supplies On eBay
Whether a buyer is searching for varnish, stain, wood filler, or brushes to repair minor damage to a hardwood floor, or searching for heavy duty tools and materials like an electric sander and replacement floorboards, eBay has a wide selection of home improvement materials available from many top-rated sellers. eBay sellers list tools and materials from the top home improvement brands in a variety of price ranges. Any household task can be fixed with the supplies found from reputable eBay sellers.