Fishing may utilize many different techniques or styles to suit either weather conditions or the movement of fish. A person cannot always be sure of what they might be doing on the day until they have been fishing for a while, it will depend on if the fish are biting and what sort of fish to target. This can be very confusing when selecting fishing gear to purchase, unless, a universal rod and reel to suit different conditions can be found. Another solution would be to have different gear for surf, estuary, boat and jetty, which is fine if keen on fishing a lot.

In Australia we are very fortunate to have so many different fish to catch and we can fish all year round, depending on the biology of the different species. For instance, when they congregate to spawn each year or move in to feed and grow. The seasonal rains wash debris from our creeks and rivers, providing plankton with a feed of microscopic creatures that in turn, break down this organic matter. This begins the food chain cycle over each year as animals such as juvenile prawns feed on the plankton, which in turn provide food for fingerling fish. It's quite reasonable to respect these environments, and to look after them, which most fishing people do.

Unless a person fishes their local area on a near daily bases, knowledge of the dynamics in the water, beaches and estuaries is difficult to know.Unless there is somebody to ask, you're on your own with basic decisions such as whether to fish with heavy or light line, a sinker or float, and what sort of bait or even size hook to use.

The fishing tackle market is flooded with smallish fishing equipment for the person who likes to fish recreationally on occasions. Cheap gear can be quite suitable, however the discerning purchaser might wish for something of better quality or with particular features. One such fishing reel is the Tuff Tackle 5000B, stands out from the choices available in the reasonably priced category. It is a serious piece of precision machinery that has much more muscle than its apparent size and lush appearance would suggest. It's a very versatile little reel and would be fantastic when going on a holiday or fishing trip and not quite sure what sort of fishing might be encountered. I think it can be a worthwhile lasting Birthday or Christmas gift that can be bought with confidence.

I had an awesome morning fishing the first time with mine, christening it with a 700mm long Golden Trevelli, weighing 4.176kg (9.2lbs), as well as a few 700mm longish School Mackerel. The reel never faulted when battling these strong fighting fish, much to my surprise because it is quite a small reel. It handled beautifully, even with a much larger fish, which I had lost on a rocky bomby.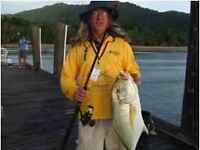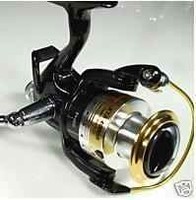 I used P-Line® Floroclear Line, MIST GREEN 20 LB .016" DIA. (.41mm), which is a new colour for 2009 and fantastic if a stealthy approach is favored, it just disappears in the green waters close to shore where I like to fish. I was dubious about putting 20lb line on such a small spool as this thickness line usually "curles", but not this brand of line. I wouldn't usually use this size reel as I prefer to have more line capacity; however, I matched it with a short (7') Diawa surf rod (Eliminator EL-SA702MRS) to fish for largish fish from a jetty. I like this setup very much; the rod has a rather large first guide allowing for longer casts, especially with this smaller spooled reel. The line runs out smoothly and easily, even with nothing but a small and very light live bait fish. It's an unusual looking setup, but I have used it successfully from a boat as well as beach and estuary shores. It is very universal, and quite capable of catching any fish up to 30kg.
The winding action is so smooth on this reel, on par with a Diawa Capricorn, which comes in a similar size, so pleasant to use, except, the Tuff Tackle 5000B seems to have a better drag (8lbs). I had fish running out nearly all of the 130m line capacity, but was able to apply pressure to "turn" the fish, it never faulted, requiring no adjustment while "playing" the fish in.
The 5000B has a dual drag, a secondary one to set as a baitrunner, which is nearly a necessary feature for preventing rod and reel being dragged into the water when unattended or "set" waiting. It is so much more convenient than loosening the main drag, which snaps into play with a wind of the handle or flick of a latch. It is not a common feature on smaller reels and a definite advantage to easier fishing.
To further this little reels versatility, is in its strength and durability as an excellent sport fishing reel. For instance, if loaded up with 30lbs Braided Line (P-Line Spectrex IV), would be an excellent challenge for a 30kg fish. That would be near extreme fishing.
I'm impressed with this reel, suitable for the serious recreational fishing person in us all.