The Little Tuppence doll made by the New Zealand company Lincoln International in 1965 was sold throughout Australia and New Zealand from 1965 to 1971. Her best friend Posing Penny was introduced in 1966. While a little harder to find than other vintage dolls, Little Tuppence dolls do come up for sale on ebay. However, these dolls are often listed as unknown doll or worse, confused with the US company Deluxe Reading's Penny Brite doll which has an almost identical head mould to Little Tuppence and Posing Penny. There was also a myriad of cheap Little Tuppence copies, some of which are easily confused with the real thing. This guide aims to help you identify Little Tuppence and Posing Penny dolls.
The easiest way to differentiate between Little Tuppence and her friend Posing Penny and other similar dolls are the markings on the doll's heads and bodies. Little Tuppence and Posing Penny are usually around 20 cm or 8 inches tall, however some can be up to 1 cm taller. In general, there are no markings on Little Tuppence or Posing Penny doll's head, although some have a very faint A 9 marking near the hairline. Some Little Tuppence dolls have large soft vinyl heads, while others have smaller harder heads. They are marked on the back of the body, usually across the shoulders, with either HONG KONG, MADE IN HONG KONG, MADE IN HONGKONG or MADE IN N.Z. These markings are usually in raised lettering and some can be very small or very hard to read. Some dolls however have no markings at all.
Most Penny Brite dolls are also around 20 cm or 8 inches tall. Penny Brite doll's head is usually marked Deluxe Reading Corp. C 1963. The bodies of these dolls are usually marked across the back Deluxe Reading Corp., Elizabeth N.J., Pat. Pending. The cheap copy dolls are often marked across the back with MADE IN HONG KONG.
Little Tuppence and Posing Penny's arms and legs are made from a flexible vinyl over a wire skeleton which allowed the dolls to be posed. Over time, the vinyl often hardens so the limbs can no longer be bent or hold a pose, however it does remain slightly pliable. Little Tuppence and Posing Penny's hands are spread flat and the palms face to the rear of the doll. One leg is often slightly shorter than the other.
Penny Brite also has flexible limbs, however her hands are slightly cupped and face the side of her body. In general, the cheaper copy dolls have legs that are made from a hard hollow plastic. Their arms may be flexible but have no wire armature and do not bend. Their hands are slightly cupped and may face the side or the back of the doll.
Little Tuppence has blonde hair, but the colour and texture of the hair can vary greatly, from dark ash blonde to light, bright pale gold. The hair texture can be coarse and dull through to very fine and shiny. Her hair is usually short and curled under, often with either a centre or side parting, with a wispy fringe. It is often difficult to get Little Tuppence's hair to completely cover the back of her head, it often likes to part itself here, but there should be no missing plugs of hair or empty holes. Posing Penny has reddish brown hair tied back in two pigtails with a wispy fringe. Her hair is rooted with a part right down the back of her head, so even if her hair is not in pigtails, it is easy to see this parting.
Penny Brite has a hairstyle very similar to Little Tuppence's. Her hair tends to be more copper red in colour though. The cheap copy dolls have many varying hair colours and styles. Their hair tends to be sparsely rooted and may be any colour from brown to blonde, long or short.
Little Tuppence's original outfit consisted of a white broiderie anglaise top with attached petticoat, red skirt hitched at one side with a white flower motif, red Alice band and red shoes. The shoes often leach colour into the doll's feet so finding Little Tuppence with reddish feet is quite common. Posing Penny's original outfit is a red and white polka dot bikini, red hair ribbons and red shoes. Again it is common to find these dolls with reddish feet.
Penny Brite's original outfit is a red dress with white inserts, collar and cuffs, and with blue flower motifs, red hair bow and red shoes. The many cheap copy dolls wear many different outfits, even national costumes.
Don't be afraid to ask sellers as many questions as you need to in identifying these dolls, they can look so similar. Good luck in adding Little Tuppence and Posing Penny to your collection. They are an important part of Australia and New Zealand's toy history!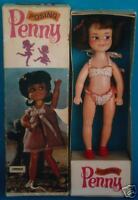 Little Tuppence and Penny Brite, shown above left, and Posing Penny, above right, are very similar and easily confused.