Buy the right size from the start
If you are reading this guide then chances are you are looking to buy a safety sign to keep your workplace accident free and ensure that both your staff and customers are safe. So it is very important to buy the correct size safety sign from the very beginning to not only ensure it is as effective as possible but to also ensure peace of mind in the event of an accident.

Although not every safety sign is an Australian Standard regulation there are still many that are. So if you're purchasing safety signs to comply with the Occupational Health & Safety legislation set out in your state, then it is important that the sign is the correct size to meet the OH&S guidelines. If you were to buy a sign that is for example too small then you may not meet your obligations and could be prosecuted in the event of an accident.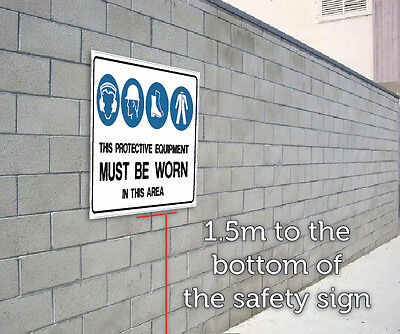 AS1319-1994 Safety Signs for the Occupational Environment
This is a summary of what is required for a safety sign to comply with the Australian Standards.

• Location - Signs should be clearly visible in order to attract attention. They should also be easily legible to anyone the message is intended for.

• Safe - Signs should be installed in a manner that is safe to all people, vehicles and other traffic. For example a sign should be installed using all 4 mounting holes, or the sign should atleast be at a height of 2.1m and above.

• Placement - Signs should always be installed on to appropriate surfaces depending on the sign and what it is intended for. Placing signs on surfaces such as doors and windows is not always the best place as they can often be out of sight causing the sign to be useless. Signs should also be placed in a manner that minimises the possibility of it being obscured by boxes or other obstructions.

• Visibility - Ensuring that the signs are well lit, whether they're internal or externally mounted signs it is important that the lighting provides the adequate visibility at all times. Signs are generally made to be grab attention and alert people of the message, so ensuring that signs are installed onto a contrasting surface to enhance visibility and grab attention.

• Maintenance - Signs should be kept clean and in good condition. Old signs that are deteriorating should be replaced before becoming ineffective.

• Relevance - For the message of a sign to stay strong and clear it is important to keep the information of the sign/signs relevant. If too many signs are placed close together then it the message can be easily confused. This can result in none of the content being absorbed and the signs being ineffective.



| Safety Sign Size | Viewing Distance | Pictogram Size (min) | Text Size (min) |
| --- | --- | --- | --- |
| 180 x 225mm | 6 metres | 90mm | 30mm |
| 225 x 300mm | 12 metres | 180mm | 60mm |
| 300 x 450mm | 18 metres | 270mm | 90mm |
| 450 x 600mm | 27 metres | 360mm | 120mm |
| 600 x 900mm | 36 metres | 450mm | 150mm |