There are many counterfeits of branded bags online, especially for popular brands like Louis Vuitton, Chanel, Mulberry etc. It is impossible to identify the counterfeits 100% of the time. SImply because some of them are really well made, and they call it A+ copy. If you are after the authentic bag, the following guildlines from my personal experiences might be able to help you.
1. Identity card means nothing.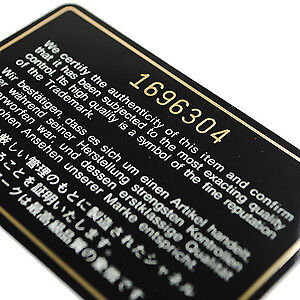 All good counterfeits have identity card. It doesn't mean they are authentic.
---
2. Stay away if the bag looks newish but the price is only a fraction of its original price.
An authentic new Chanel Classic Flap costs around $3000. If someone is selling one New Without Tag for $500, WALK AWAY PLEASE. Ask yourself, would you ever sell it at this price?
---
3. Check the photos carefully, and compare them to the official website
Branded bags are so expensive for many reasons. One of them is they are made of highest quality materials to the highest standards. They do not allow flaws. Many counterfeits come from asian countries where the brand has factories. The counterfeits could be the finished bags that didn't meet the QA standards. They were sent to be destroyed, but the workers in the facotory sold them. Sometimes the factory has left over raw materials, and they would use them to make some bags to sell themselves.

So compare the details carefully, that usually eliminates 50% of the counterfeits.
---
4. Seek professional advice
Of course, do this only if you are going to buy an used handbag for more than a week's of your earning.
There are also free tutorials on Youtube that helps as well.

---
5. Good news is there will be less counterfeits for the less known/demanded styles or brands
Like Bottega Veneta, there are hardly any used bag available on eBay, hence when there is, it is more likely to be authentic.
---
6. Always Pay using PayPal
End of the day, even after everything you tried, you could still get the counterfeit. Rule of thumb is always paying via PayPal. PayPal Buyer Protection will allow you to make a claim in the case of item not as described. In fact, sellers are not allowed to sell counterfeits on eBay at all.
---