Guitar Capo Guide
The guitar capo is a very useful tool in raising the pitch of stringed instruments such as guitars, mandolins and banjos. Using a capo, a musician can change the key and pitch without having to re-tune or change the strings.
For example, if the guitarist has learnt a particular song in the key of E and the vocalist prefers to sing in the key of G, the guitar does not need to relearn or reinterpret the song, instead, they can put the capo on the third fret, and play the song as they learnt it, but in the key of G.
Because of the different techniques and chord voicings available in different keys, the same piece may sound very different played in D or played in C with a capo at the second fret (at the same actual pitch). Additionally, the timbre of the strings changes as the scale length is shortened, suggesting other short-scaled stringed instruments such as the mandolin. Therefore the use of a capo is as much a matter of artistic expression as of technical expediency.
There are many different types of capos, some of which are shown below:
This is a trigger capo, and is very easy to use and very popular among many guitarists
This elastic capo is a budget solution, but still provides a great solution to changing the key of a guitar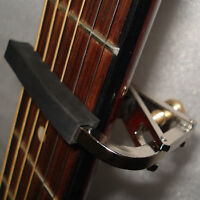 This style of capo is called the clamp capo, and is compact, easy to use, and very reliable
We have more than 5 different types of capos and are constantly adding new ones at our store:
Or go straight to our capos
here