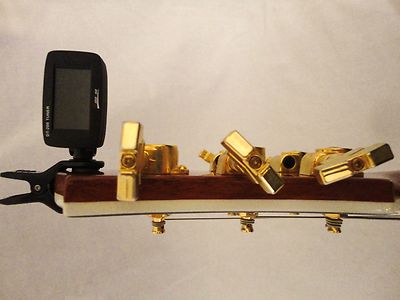 In a nutshell
Clip on tuners are devices that can clip on to instruments such as the guitar, ukulele, violin, trombone, etc. Most clip on tuners make use of an internal vibration sensor to measure the vibrations of the instrument instead of using an audio microphone. Because clip on tuners do not use a microphone, they ignore background noise, allowing them to be used effectively in noisy environments.
Advantages
The simplest tuners only detect and display the tuning for a single pitch, such as the six pitches used in the standard tuning of a guitar (E,A,D,G,B,E). More complex tuners offer chromatic tuning, which allows all the 12 notes of the scale to be tuned. This is what I use because I sometimes tune to dropped C, or just need to know what note I'm playing.
It will actually work on just about any instrument. Because they aren't activated on a sense input frequency, they aren't then confused or distracted by background noise. You can be at the center of a tornado and still not get random intonation readings, letting you tune up quickly, easily and accurately.
Disadvantages
No matter which type of tuner you use, some degree of ear-tuning is necessary. The problem with relying entirely on a tuner is that they can be fooled if a string is too far out of pitch.
It's very important to keep your ears in good condition, some of the best musicians might not know what notes they are playing, but can at least hear what they are playing. So try to use your tuner as a guide only & don't let it govern what you hear.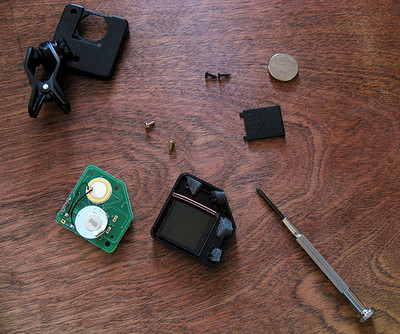 More info
Notes are fixed at particular frequencies. For example, the A above middle C is always 440 Hz. Middle C is about 261.626 Hz and the E above it is at about 329.6 Hz. All other notes, including sharps and flats, have their own fixed frequency. A guitar tuner identifies the frequency of an incoming signal and records it in relation to these fixed standards. If the signal frequency matches the standard exactly, the tuner reflects that the note is in tune. If the frequency is a little too high or low relative to a standard frequency, the tuner will show the note as being a little sharp or flat. The display on most tuners is a series of LEDs lined up in a row with the center light representing in tune. A note that is only slightly flat will only be a few lights away from center, where a very flat note will be farther away--or even show up in relation to lower standard frequency. Other tuners only use one light for sharp, flat and in-tune notes; a digital display shows how near or far the note is from the standard pitch.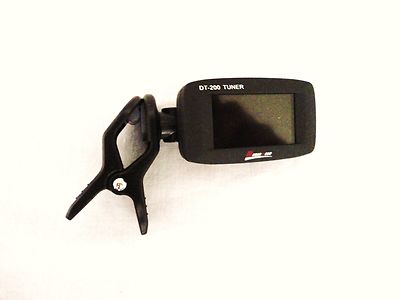 More tech talk
The pitch and frequency of sound are related. The higher the frequency, the higher the pitch. A guitar tuner can't hear pitch, but it can detect frequency. The frequency of a wave is the number of wave peaks that pass a fixed point in a given amount of time. Frequency is measured in Hertz (Hz), which corresponds to the number of crests passing in a single second. The range of frequencies audible to the human ear ranges from around 8 to 14,000 Hz.