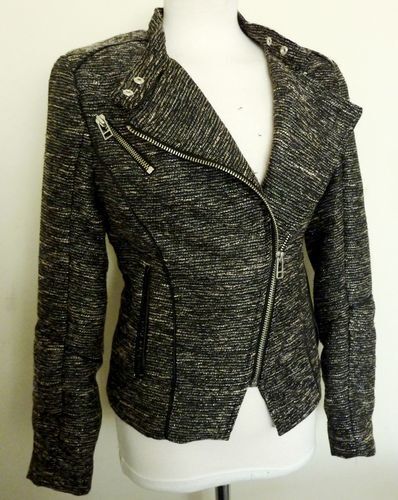 People should not brave harsh winters without a warm coat to keep them safe from the wind that whips across the ground. Both men and women need a sturdy, affordable, and well-insulated coat to keep the harsh weather out. H&M coats are relatively new imports that offer these characteristics through quality manufacturing and recycling. H&M is also a youthful brand, with fashionable coats that buyers can wear for any winter activity. When shopping for H&M coats, buyers should consider the type, material, and sizing of the coat. Buyers can find H&M coats in brand retail stores, on the H&M website, and on sites, like eBay.
H&M Coat Types
H&M sells a variety of coats in classic styles. Most H&M coats are a good choice for formal wear, but also for day-to-day activities. H&M sells both coats for women and for men. An overview of the main styles available may help buyers make a purchase decision.
Duffel Coat
The duffel coat has grown popular in men's fashion. The coat reaches the mid-thigh, is loose and baggy through the torso and shoulders, and features an extra wide collar that wearers can pull up against cold winds. More men than women wear a duffel coat, but there are some attractive H&M duffel coats for women.
Parka
Designers have drawn inspiration from Inuit anoraks to create the parka coat. The parka has a hood, and usually a fill of bird down or artificial polyester fibre. These coats tend to be longer, but many women's styles end at the waist or the hip.
Pea Coat
The pea coat is a slightly formal coat design. It features a fitted shoulder, white-collar, and double-breasted button front. Both men's and women's styles of H&M pea coats are similar, but women's coats slightly tuck in at the waist to emphasise the wearer's figure.
Trench Coat
The trench coat is a type of overcoat for rainy, cold weather. Trench coats are extra-long, usually ending at the mid-calf or even ankle. Trench coats feature a lot of stitching and embellishments, and may include a belt at the waist. Most trench coats feature a standard collar, but no hood. H&M trench coats for women emphasise the wearer's figure.
Conscious Coat Materials
A common material for H&M coats is a combination of wool and polyester fabric. This helps keep the price down on wool coats, while also giving them many of the characteristics of wool. The addition of polyester can cut down on problems, such as itchiness and the tendency of wool to shrink and wrinkle in the wash.
Organic Materials
Additionally, H&M works to use recycled and sustainable materials in all of their clothing fabric. Not all, but many of H&M's coats, jackets, and other product lines use sustainable materials. H&M is the world's largest user of organic cotton. The company also makes use of organic linen, hemp, and jute.
Recycled Materials
H&M uses recycled polyester that manufacturers primarily produce from used PET plastic bottles, and the waste material after plastic production. Some H&M jersey knits and woven fabrics contain recycled polyamide, another type of plastic, or recycled wool and cotton from textile remnants and old worn-out garments. H&M uses many of these materials in the creation of H&M coats, which are attractive, affordable, and warm.
H&M Coat Sizes
Before shopping for an H&M coat it is a good idea to take measurements and get the proper coat size. This is especially important when shopping online for a new coat or other item of clothing. Both men and women need to measure their chest, while women should also measure the waist and hip circumference to get accurate sizing. Buyers can compare this information against H&M's standard sizing charts to pick out the best size coat to wear.
Men's Coat Sizes
H&M sizes men's coats from XS to XL, using a lettering system. The XS is the smallest size coat and the XL is the largest size for standard men's sizing. There are larger and smaller sizes in the fashion industry, but H&M rarely produces clothing outside this range.
| | | | | | |
| --- | --- | --- | --- | --- | --- |
| Size | XS | S | M | L | XL |
| | 86–91 | 91–96 | 96–101 | 101–106 | 106–111 |
The sizing chart provides measurements in centimetres, rather than inches. H&M is a US based company, and may also show sizing charts with imperial measurements for easy conversion.
Women's Coat Sizes
H&M predominantly sticks to a number sizing system for women's coats ranging from sizes six to 16. As with men's fashion, there are other sizes both smaller and larger, but H&M sticks to this size range for most of their clothes.
| | | | |
| --- | --- | --- | --- |
| Size | Bust (cm) | Waist (cm) | Hip (cm) |
| | 78.5 | 60.5 | 86 |
| 8 | 81 | 63 | 88.5 |
| 10 | 86 | 68 | 93.5 |
| 12 | 91 | 73 | 98.5 |
| 14 | 96 | 78 | 103.5 |
| 16 | 101 | 83 | 108.5 |
H&M may also provide charts with both imperial and metric measurements for easy conversion. Women need to measure the bust, waist, and hips and select the closest size for the best fit.
How to Buy an H&M Coat on eBay
Shopping for an H&M coat on eBay is a straightforward process. H&M provides a variety of coat styles for both men and women, and works to use longer-lasting, durable materials that are recycled or organic. To ensure that a coat is the best fit, take measurements and compare them to a sizing chart before buying on eBay. Men only need to measure the chest, but women need to measure the bust, waist, and hips. This is because women's coats tend to be more fitted compared to men's coats. When shopping, consider checking out eBay Deals to see if there are any H&M coats available with extra discounts.