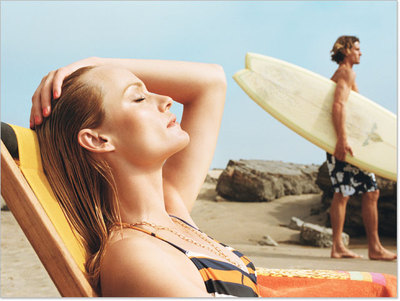 One thing I'm more serious about than makeup (if you can imagine it) is sun protection. It's one of those often overlooked beauty steps and yet it's the most important. Not only does slathering on the SPF mean you'll lessen the chances of getting (gasp) skin cancer and sunburn but it also helps reduce fine lines, spider veins, pigmentation and wrinkle formations on the neck, ears, hands and chest. Yes please!
While it's no secret that SPF is essential during the summer months, it's also imperative during Autumn, Winter and the current season – Spring. UVA rays can penetrate through just about any transparent surface, so you're always going to be exposed whether it's in your car, your daily commute or even in your office space.
Undoubtedly, you've got lots of Spring soiree's planned out already (hello racing season!), so get sunsmart right away with this crop of broad spectrum UVA and UVB lotions. Make it the first thing you apply in the morning beneath your moisturiser and makeup and you're good to go.
1.
Kiehl's Lip Balm SPF4 Sunscreen
means that your pout can be protected from the results of sun damage . The formula sinks into your lips, aiding dry, chapped surfaces and will leave your kissers feeling soft, smooth and luscious.
2.
Clarins Sunscreen Wrinkle Control Cream SPF15
offers a grease-free, sun smart solution. This product is great for daily application when you're not planning on going full force into the sun and the plant-based complex means your skin can be defended from the harmful effects of UV exposure and premature aging.
3.
Lancome UV Expert GN Shield Triple Potency BB Complete
SPF 50 PA+++ is great if you skin is especially prone to pigmentation and sunburn. This multi-action BB cream helps conceal imperfections like dark spots, uneven skin tone, dullness and fine lines while making skin look radiant and refreshed instantly. Wear alone or layered with a swish of bronzer or blush.
4.
Supergoop SPF40
Antioxidant-Infused Sunscreen Day Cream contains all the high-tech ingredients of a face screen in a body lotion. It combines pomegranate and green tea extracts as well as anti-inflammatory olive oil polyphenols to promote cell renewal and improve the texture of the skin.
5.
Orlane Extreme Anti-Wrinkle Care Sunscreen SPF 30
is another luxurious sun smart wonder that will not only help swipe off years from your face, but will absorb instantly into the skin, leaving you with a clean, clear canvas to apply your makeup.
6.
Philosophy Hope In a Jar
Moisturiser SPF 25 is another great anti-aging sun screen for the face that offers a super light, non-pore clogging formula. Infused with multiple antioxidants, it provides broad spectrum sun protection, a hit of hydration and the benefits of gentle exfoliation which helps to correct the presence of fine lines, wrinkles and uneven skin tone so you face the day with a healthy glow.
TIP: Apply sunscreen daily to your face, neck and hands and even ears to avoid sun damage and skin deterioration. When skin is fully exposed, make sure your entire body is protected. You might want to take a good omega fish-oil supplement and Vitamin C also, as they assist in boosting your antioxidant levels and help combat UV damage.