HORSE RUGS - WHAT YOU NEED TO KNOW
Hi, having made and sold quality horse rugs for over 30 years, I feel I can help those who wish to buy items through Ebay - or in person - with a few simple tips. One of the most frequent statements from customers in my retail store was "My horse is hard on rugs, I just want a cheap one, as they don't last long". Oh, how wrong they are - if your horse is hard on rugs - buy the BEST one - you need it!!! This is why I still use Australian made Wool and a heavy quality 100% cotton.
SIZES - In Australia rugs are measured along the lower edge of the rug, from the chest to the rump, this is something overseas buyers need to be aware of, as in America they are measured along the spine, therefore the wrong size can be purchased, and postage costs are quite high for sending rugs internationally. My rugs can be made any length you require, all you need to do is state the exact measurement, even 'in between' the normal sizes, and the rugs can be made to fit. Note...if buying Cotton rugs, ask if the material is 'pre-shrunk' - most cheap rugs are not - so you will need to allow 'shrinkage'. Same for canvas or jute rugs - which always shrink no matter what quality. Woollen rugs will also shrink a little - especially if washed incorrectly, BUT Australian wool is better quality and shrinks less than others I have tried - so I'm sticking to using that - even though it is more expensive!
NECKS - It is very important when fitting a rug on a horse or pony, that the neck is not too large. If you buy a rug with a largish neck, it rides back and can create a fistulous wither, and rub the shoulders. The proper place a rug should sit is 'forward' and in front of the wither. A lot of rugs made these days do not have a good neck fit - so be very careful of 'cheap' rugs. If you are unsure, and have a rug which fits your horse well, get a long ruler, lay in from the top of the neck in a straight line to the lower edge of the rug, then get a tape measure, and from the edge of the front of the rug (when the front strap is done up where if fits the horse), measure the distance in a straight line back to the ruler laying on the rug (and take the two measurements, both up and down to the point where they meet). Ask the seller to do the same, and this will give you a more accurate neck size, than trying to measure the rug along the neck, as it is hard to measure a 'curve'.
BINDINGS - It is better that Canvas rugs be folded instead of bound, especially if bound in nylon binding. The binding can rub, and be pulled off if caught on the fence (and it does catch easily) . For woollens and cottons, a cotton binding is required. If you use nylon bindings, they can rub the wither, and shoulder line - most imported rugs use nylon binding as it is cheaper. Cotton bindings will fade in the sun - but ask yourself which is best - a comfortable horse or a faded binding?
FITTINGS AND FACINGS -For cottons and woollen rugs, ask whether the neck, shoulders and wither, are 'faced'. This reinforces them, and stops the necks of rugs stretching and riding back on the wither. Most cheap rugs do not have facings along the neck and wither, just a patch in the shoulders - not good enough! Leg straps are best if for paddock use, but check that they are sewn on securely, using a facing plate, as if they come off - then your rugs get ruined!
REMEMBER - YOU GET WHAT YOU PAY FOR!!
Hope this helps just a little, if you need to ask me any questions, please do not hesitate to do so.
IF I DON'T HAVE RUGS LISTED ON EBAY AT THIS TIME YOU CAN FIND MORE INFORMATION BY GOING TO REDEEMS HORSE RUGS ONLINE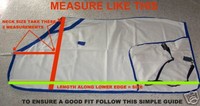 JUST A QUICK PREVIEW OF WHAT YOU CAN FIND IN MY STORE - RUGS, HOODS, NECK RUGS - MADE TO ORDER A SPECIALITY - FOR THOSE HARD TO FIT HORSES