INSTRUCTIONS ON HOW TO PUT YOUR HAIR UP USING THIS UNUSUAL HORSESHOE SHAPED HAIR PIN
Now I've had my hair cut, I've had to experiment with some of my huge variety of hair pins! This unusual horseshoe shaped one has become my current favourite as, done properly, it is very secure but very, very comfortable as well. People who buy this one often ask me how to use it, and while I have seen a few different ways with other peoples hair that is quite different to mine, I have found a way that suits my hair. Please try it for yourself (we are only allowed 10 photos so this is the best I can do on instructions). Remember you do need to practice a bit... :-D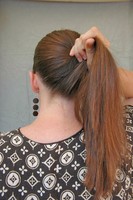 1. Make a ponytail with your right hand (no elastic needed). Position it a little to the right, i.e. not exactly centre.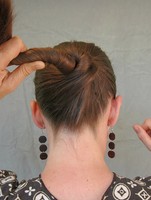 2. Using your left hand, twist, twist, twist...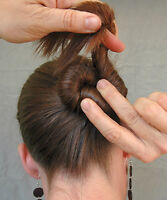 3. Form a cinnamon bun a little to the right...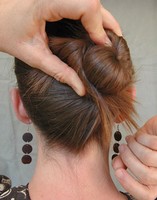 4. Hold the cinnamon bun securely with your left hand. Notice the position is still on the right - when the Roll is done it then will reposition in the centre...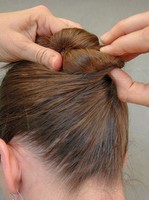 5. Find the bulge of the beginning of the twisted bun at the bottom with your right hand, grab the bulging bit between thumb and forefinger, and slowly pull the bulging bit up and over the cinnamon bun...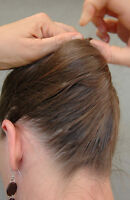 6. Keep going until you get to the top, making a French Roll type of effect. (The bun formation inside makes it more complex so that the pin when going through has more hold).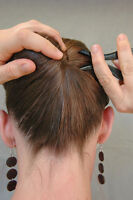 7. Hold the "French Roll" part with your left hand, and taking the pin with your right hand, start to put it through your hair taking a little at the side before you go through the protruding Roll part.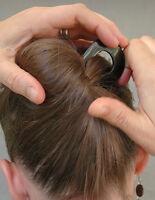 8. Using both hands to keep hair in place, slowly push the pin at a 45 degree angle through the Roll until the ends become visible the other side, and the top round part of the pin feels to have filled with hair that has finally slipped through the narrow bit, filling the round interior of the pin...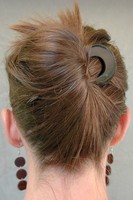 9. View from the back...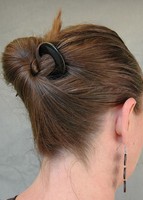 10. View from the side...Practice makes perfect!!!
Hope you found this helpful! Please let me know by voting below... Thanks, and enjoy the new style!