INSTRUCTIONS ON HOW TO MAKE A MESSY HAIR BUN WITH HAIR STICKS / PINS!
(Learnt from an Italian gentlewoman who kindly demonstrated this technique to me)

Many people who buy our hair pins ask me how to make a bun with their hair, and this is my favourite way! It takes a bit of practise, (about a week of consistent trying), and you can "feel" when it is secure yourself. My hair is very straight, fine and slippery, and it is difficult to make a bun with hair like this - but if I can do it so can YOU! I am using a plain horn hair stick, one of my favourites to secure a bun. The second pin is for decoration, and I wear all sorts, depending on my clothes and how I feel at the time...

Have fun trying this one!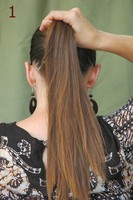 1. Form a ponytail at the back (no elastic needed).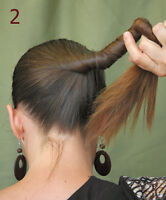 2. Twist twist twist!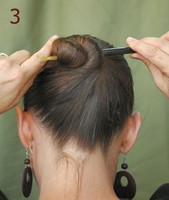 3.Transfer twisted hair to left hand, get hair stick with right hand and twirl the twisted hair around the stick 1 or 2 or 3 times depending on the length of the hair or how much "messy bits" you like at the end.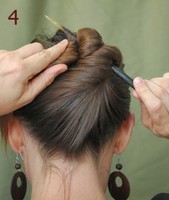 4. After twirling completed, angle the stick down to the scalp to take a tuft of hair like doing a 'sewing stitch' from the smooth hair close to the scalp.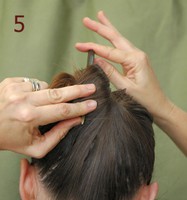 5. Turn the angle of the stick to go down and through the hair bunched around the stick, a sort of half French Roll will result...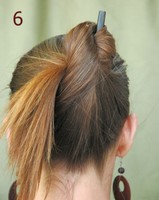 6. Arrange the "messy bits" that come out of the end ... and adjust the hair on the scalp if it feels too tight in the front originating from where the 'sewing' tuft was used at the back...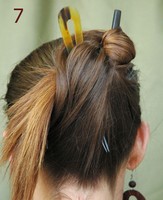 7. Then add another hair pin to give extra stability and for decorative purposes!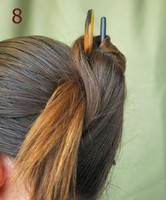 8. From the side with extra pin in.
Hope you find this helpful - please let me know by voting below... Thanks, and enjoy the new style!